Home
E12
E24
E28
E30
E34
E36
Z3
E39
E46
X5/E53
ALL
Ron Stygar
Carl Buckland
Dale Beuning
Forums
Help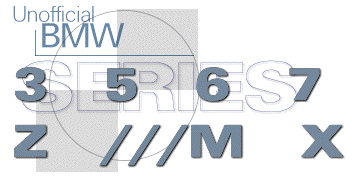 ---
---
From digest.v7.n58 Wed Aug 6 09:18:09 1997
From: Dale Beuning <dale_at_unofficialbmw.com>
Date: Tue, 5 Aug 1997 23:50:46 -0700 (PDT)
Subject: <E36> fuel guage

Last friday I had my '95 M3 in to the dealer for a fuel odor problem. They changed the seal on my fuel tank sending unit and some hoses coming off the tank. They said it was a common problem so watch for the fuel smell after driving the car for a while.
Saturday I was near empty on the tank, so I stopped to fill it. I did something I've never done before when filling the tank, I left the key in the ign, in the accessory position. After filling and driving away, I noticed my guage didn't show full, it was still down on E. The range also still said 30 miles on the OBC.
Today it still didn't work, so I brought it to Camelback BMW. They pulled out fuse #21 for 10seconds, then reinstalled it. Presto, the fuel guage now works!
Moral of the story, key belongs in your pocket when fueling the car.
Dale
'95 M3
'88 325is
---

                       |            Dale Beuning           |
                       |       email: dale_at_unofficialbmw.com     |
                       | web: http://www.unofficialbmw.com |
                        -----------------------------------

Unofficial Homepages: [Home] [E12] [E24] [E28] [E30] [E34] [E36] [Z3] [E39] [E46] [X5/E53] [ALL] [ Help ]