Home
E12
E24
E28
E30
E34
E36
Z3
E39
E46
X5/E53
ALL
Ron Stygar
Carl Buckland
Dale Beuning
Forums
Help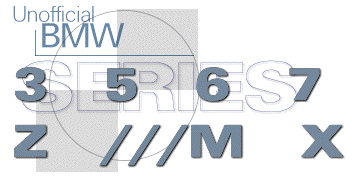 ---
---
From digest.v7.n4 Thu Jul 24 15:28:45 1997
From: FSTBMWM3_at_aol.com
Date: Thu, 24 Jul 1997 14:11:27 -0400 (EDT)
Subject: 15min DIY E36 oil-n-filter changes

Here's the quick-n-easy way of changing the oil on your E36 : without jacking,
stands,
jacks,
ramps.
The oil pan on the E36 cars has the drain plug facing the passenger side front wheel.
Tools (I use Craftsman from Sears) :
Get a 1/2 inch rachet.
Get the longest 1/2" extention you can find. Get the socket for the correct size (is it 17mm ?). I know in my toolbox its the socket with all the oil on it.
Get one of the oil change drain whatchamacallits (the ones that are 3" high, so they can fit under M3 cars)
Procedure:
Kick the bucket under the car (Place the oil drain collector under drain plug )
Bend on your knees and unbolt the drain plug (use the 1/2" rachet 25inch extention).

You will not have to stick any part of your anatomy under the car.

Watch the oil drain (no tools required)
While the oil is draining replace the oil filter in the engine compartment (I replace mine after 2 oil changes)
Use the tool to torque the drain bolt.
You can do this oil change wearing a Tuxedo, and holding a martini on one hand, and nobody would know.
No scraping, dirty clothes, tar falling on your face, no looking for the tire jack etc.
Regards
Vlasis
95 M3
P.S. I am driving a rental now, until I get to Europe to pick up my car. There is an AutoX at U of maryland College Park this Sunday 27th at 9:00am
Do SCCA rules allow running with rentals ? Its a Huinday Accent, and I would like to run one last time before I leave the USA.
Any digesters planning on attending this Sunday ?
Unofficial Homepages: [Home] [E12] [E24] [E28] [E30] [E34] [E36] [Z3] [E39] [E46] [X5/E53] [ALL] [ Help ]