Google Search

Search (Google!!)
Search Amazon.com
Home
E12
E24
E28
E30
E34
E36
Z3
E39
E46
X5/E53
ALL
Ron Stygar
Carl Buckland
Dale Beuning
Forums
Help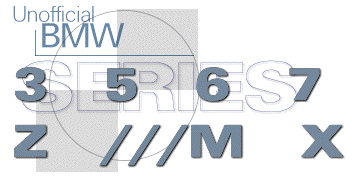 ---
From: "Davis, Jake A" <Jake.Davis_at_SW.Boeing.com>
Date: Fri, 22 May 1998 14:23:55 -0500
Subject: <E36> Belly pan blowoff

I'm sure many of you have figured this one out already, but I felt like I had to make some kind of contribution to the digest:

Unlike Bubba Ben, lord of the short shift ...we're not worthy ;-)...I have no really neat performance enhancing UUC tricks to pass on. Unless you want to count a cheap fix for the dreaded belly pan blowoff syndrome. After experiencing one of these myself ( what the hell is that scuffling noise coming from under the car?) Seems the most common cause is the screws pulling thru the plastic pan flanges (not much meat around them). I took a couple of pieces of 3/4" perforated strapping from Home Depot or Lowes) and did a little shaping with a file to allow a close fit along the flanges. Drilled and countersunk holes through the upper surface of the bellypan (chassis-side). Attached the straps to the bottom surface of said bellypan, using short flat head screws (inserted thru upper surface countersinks), lock washers and nuts. Reattached belly pan to car, using flat and lock washers. Now the strap carries and distributes the load rather than the plastic of the belly pan. It also allows you to reuse a belly pan that has pulled out original holes. Now have about 30K miles since then and no more blowoffs.

Jakester

Jake Davis
SCCA Southwest Division
F&C Administrator

"Meddle not in the affairs of dragons, for you are crunchy and taste good with ketchup"
---
Unofficial Homepages: [Home] [E12] [E24] [E28] [E30] [E34] [E36] [Z3] [E39] [E46] [X5/E53] [ALL] [ Help ]