Home
E12
E24
E28
E30
E34
E36
Z3
E39
E46
X5/E53
ALL
Ron Stygar
Carl Buckland
Dale Beuning
Forums
Help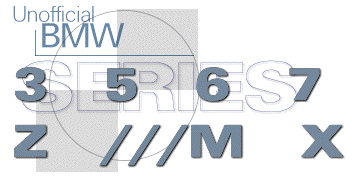 ---
Subject: 328ti Day #3
To: <dale_at_unofficialbmw.com>
Begin Forwarded Message ---------------- Date: 07/01 8:33 PM From: FLBEARCUB_at_aol.com
Today wasn't as eventful as yesterday.
The 328 radiator was installed. The bottom mounts for the radiator are different from the "ti", so they where changed. The a/c condensor did not work either, so it was replaced with the 328 condensor. The new auxilary fan
and cooling fan were installed (the "ti" only uses 1 electric fan). Some of
the parts that I ordered the day before came in like: The remote battery post
Replacement fuel line that was cut from the 328 engine removal. The battery cable and the touch up paint (to repair the brackets that had to
be cut off) that was ordered did not come in. I hope they aren't on backorder.
Power Steering resevoir mounting bracket (it mount to the left engine mount
bracket).
I was told by Michael's Auto Recycling (where I got the engine) that the 328
driveshaft should be here tomorrow. I am hoping that we can just slide off the front section of the 328 driveshaft and slide it on to the rear "ti" shaft. The 328 drive shaft is shorter the then "ti" shaft, so I hope that shortness is in the front section.
Tomorrow: Compare wiring and hopefully the driveshaft.
Stephen
Unofficial Homepages: [Home] [E12] [E24] [E28] [E30] [E34] [E36] [Z3] [E39] [E46] [X5/E53] [ALL] [ Help ]