Google Search

Search (Google!!)
Search Amazon.com
Home
E12
E24
E28
E30
E34
E36
Z3
E39
E46
X5/E53
ALL
Ron Stygar
Carl Buckland
Dale Beuning
Forums
Help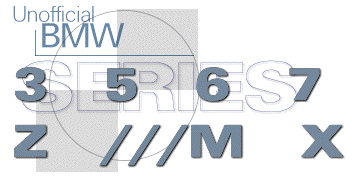 ---
Subject: 328ti Day #2
To: <dale_at_unofficialbmw.com>
Begin Forwarded Message ---------------- Date: 06/30 7:13 PM From: FLBEARCUB_at_aol.com
Day Two:
A couple of brackets where removed that aren't need on the 6 cylinder and get
in the way of the installation. The first one is the bracket that holds on the coils on the passenger side of the engine compartment. The other bracket
is the power steering resevoir bracket. On the 328 the resevoir mounts on the
left engine bracket.
Next the the 6 cylinder was lowered into place. As expected the engine bolted
right up to the "ti" engine crossmember. Before we installed the transmission, we checked to make sure that the transmission output shaft and
the front driveshaft mount where the same size, they are NOT!!. After thinking about my coversation with Race Marque, their 325ti was a automatic
transmission, this probably why it fit without cutting. I ordered a 328 driveshaft and will have the front section cut and installed on the rest of
the "ti" shaft. It will also have to be shortened 4 cm. The new transmission
was then installed, again with no problems. We discovered that where the battery sits in the engine compartment, is where the air pump mounts on the
328. So that mean the battery is definately getting relocated to the right rear trunk. The remainer of the A/C lines were run and installed.
Tomorrow: New radiator and fans.
Stephen
End Forwarded Message -----------------
Unofficial Homepages: [Home] [E12] [E24] [E28] [E30] [E34] [E36] [Z3] [E39] [E46] [X5/E53] [ALL] [ Help ]