Home
E12
E24
E28
E30
E34
E36
Z3
E39
E46
X5/E53
ALL
Ron Stygar
Carl Buckland
Dale Beuning
Forums
Help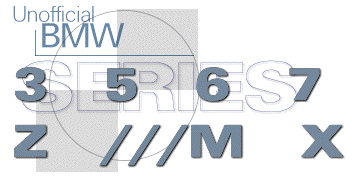 ---
Subject: 328ti Day #1
To: <dale_at_unofficialbmw.com> Date: 06/27 10:10 PM
From: FLBEARCUB_at_aol.com

The project finally began today. The M44 engine was removed along with the engine wire harness, radiator and transmission. We surveyed what would have to be removed or relocated. We noticed the DIS (diagnostic) plug mounts on the other shock tower. The battery tray does not pose any problems, though eventually I would like to relocate the battery to the trunk.
When I got home from work I made a call out to California to Race Marque Systems and spoke to Osh. I wanted to know what problems they faced with there "325ti". He infomed me that the driveshaft would not have to be cut. I will have to replace the instrument cluster with a 328 cluster so that it will accept programming. They used a stock 325 exhaust and cut to make it fit. The only other problems he felt we might face would be the OBD II. The
ti might not have some of the sensors that the 328 carries.
More on Monday when the engine is installed.
Stephen Wolff
South Motors BMW
305-256-2207
Unofficial Homepages: [Home] [E12] [E24] [E28] [E30] [E34] [E36] [Z3] [E39] [E46] [X5/E53] [ALL] [ Help ]