Home
E12
E24
E28
E30
E34
E36
Z3
E39
E46
X5/E53
ALL
Ron Stygar
Carl Buckland
Dale Beuning
Forums
Help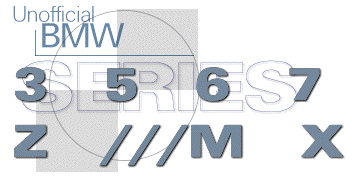 ---
---
From RonStygar_at_aol.com Wed Apr 28 01:10:58 1999
From: RonStygar_at_aol.com
Date: Wed, 28 Apr 1999 04:09:52 EDT
Subject: <E36> Let's replace the spark plugs in my '97 318ti
To: dale_at_unofficialbmw.com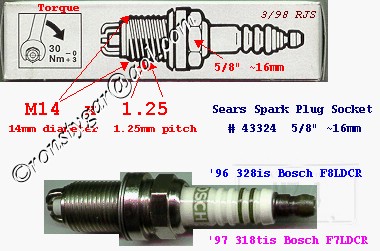 This is the first time I've replaced the spark plugs on an E36. I performed this procedure on my '97 318tis, build date 4/97. My car had the NGK plugs. I replaced them with the Bosch plugs. If your car is different, modify the following accordingly. As always, feel free to do it your way.
Here we go:
Pieces/parts:
Typically the margin on most BMW parts is 40%. On the following two maintenance items the margin is 50%. It is also 50% on the fuel filter. I didn't know that.

     4 each Bosch F7LDCR 12 1 9 063 428 $5.51 retail each
       OR
     4 each NGK BKR6EK 12 12 9 064 619 $6.30 retail each
     1 each 5/8 spark plug removal socket, Sears 43324 $3.99 
            retail or equivalent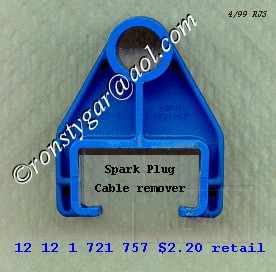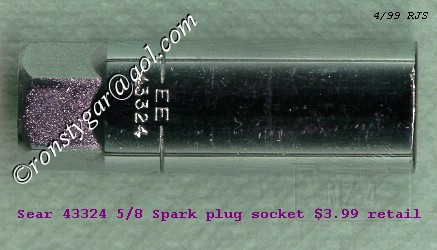 Replace the cable channel cover. Make a note of changing the plugs in your service book.
Ron_at_unofficialbmw.com FLY BMW Marlborough, CT
http://www.unofficialbmw.com/ronstygar.html
Unofficial RS/SS bender/shortener/installer +


Unofficial Homepages: [Home] [E12] [E24] [E28] [E30] [E34] [E36] [Z3] [E39] [E46] [X5/E53] [ALL] [ Help ]