Home
E12
E24
E28
E30
E34
E36
Z3
E39
E46
X5/E53
ALL
Ron Stygar
Carl Buckland
Dale Beuning
Forums
Help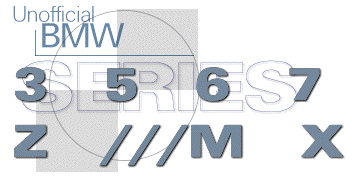 ---
---
From digest.v6.n496 Mon Apr 7 20:14:37 1997
From: "JAMES M.VERRETTE" <verrettej_at_woods.uml.edu>
Date: Mon, 07 Apr 1997 17:42:40 EST5EDT4,M4.1.0,M10.5.0
Subject: <E36> Passing wire through firewall

HI,
I posted a question a while back about how to pass wires from the battery to the interior of the car in a 95 318ti. I got a couple replies and thank those who sent them, but I didn't use any of the info.
I did get on reply from someone who wanted me to post any useful info on this, but I accidentally erased the message.
Here's how I got the wire through:
There is a factory grommet in the firewall on the passenger side just above the edge of the carpet. It has a big spot in the middle for one big wire and a number of spots around it for smaller wires. The center spot was unused as well as a number of the smaller ones.
This can be easily accessed from the interior by removing the panel under the dash and from under the hood by removing the battery and the battery box and it will be right in front of your face.
I hope this helps someone.
---
James M. Verrette
<verrettej_at_woods.uml.edu>
University of Massachusetts, Lowell