Home
E12
E24
E28
E30
E34
E36
Z3
E39
E46
X5/E53
ALL
Ron Stygar
Carl Buckland
Dale Beuning
Forums
Help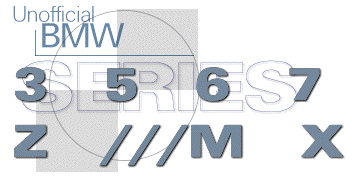 ---
---
From digest.v7.n702 Wed Dec 3 21:23:30 1997
From: Blair Hartsfield <bhartsfi_at_telecom.sna.samsung.com>
Date: Wed, 03 Dec 1997 17:48:09 -0600
Subject: <E36> M3 Battery Alternative

Geesh,
Posted the info on the battery earlier today, haven't even gotten the digest yet, and already getting requests about it. You guys and gals are electronic info aneemals! On popular demand, I went out and copied all the info from the battery. Not even a one sip <hic> job. (Just glad the sticker was ON TOP of the battery :-)
The info straight off the battery:
It has a sticker that says, "Nascar Select 950" Exide Corporation
Part Number: 49-84N
Group Size: 49
950 CCA _at_ 32 degrees Farenheit
750 CCA _at_ 0 degrees Farenheit
350 Load Test Amps
The battery is large, but fits perfect. Took 30 minutes to get the little clamp plate and
long extended bolt back in. Little room for fingers, being able to see,
and aligning it all up at the same time.
I don't know the info on the other two batteries from Exide that I posted about earlier. I can only assume they rate at a lower CCA. If I remember, the mid size battery was in
the 675 CCA range.
C YA,
blair
Unofficial Homepages: [Home] [E12] [E24] [E28] [E30] [E34] [E36] [Z3] [E39] [E46] [X5/E53] [ALL] [ Help ]