Home
E12
E24
E28
E30
E34
E36
Z3
E39
E46
X5/E53
ALL
Ron Stygar
Carl Buckland
Dale Beuning
Forums
Help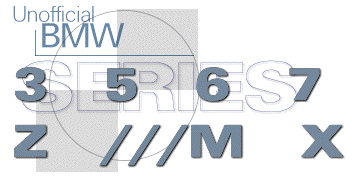 ---
---
From digest.v6.n594 Mon Apr 28 18:49:23 1997
From: FSTBMWM3_at_aol.com
Date: Mon, 28 Apr 1997 14:06:13 -0400 (EDT)
Subject: Re: Light bulb upgrade on E36

Howdy again folks,
I installed the 80/100W bulbs on my E36 M3 (OEM light fixtures/lenses).
I had called Bavarian Autosport but the sales person warned me about potential problems. Called Eurasian and ordered the bulbs anyway (proof of my single digit IQ).
Installed the bulbs, and headed for the NJ dragstrip (see related post). Half way through, I blew both the low and high beam fuses. Replaced fuses , and a hour later one of the low beam bulbs melts.
Replaced bulb and so far, so good.
Impressions:
Not worth the hassle. ROUNDEL is right , unless you change the light fixture / lens, there is no gain from the upgraded bulbs.
Although the light seems more intense, it doesnt light a larger or longer area. The light 's drop-off distance remains the same And since the contrast between lighted and un-lighted area is greater, your eyes might have trouble seeing in the dark horizon ahead.
Verdict: Just say No.
Bulbs cost $9.95 at Eurasian.
CHEERS to BAVARIAN AUTOSPORT for their ethical approach to warn me about a product they could make money on. Is it just me, or is it that alll BMW-products-only vendors are steps above the rest of the industry ?
Regards
Vlasis
95 Avus Blau
Unofficial Homepages: [Home] [E12] [E24] [E28] [E30] [E34] [E36] [Z3] [E39] [E46] [X5/E53] [ALL] [ Help ]