Home
E12
E24
E28
E30
E34
E36
Z3
E39
E46
X5/E53
ALL
Ron Stygar
Carl Buckland
Dale Beuning
Forums
Help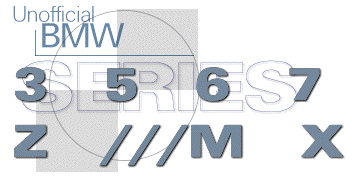 ---
---
From digest.v7.n320 Tue Sep 23 18:25:24 1997
From: acote_at_lucent.com (Albert C Cote)
Date: Tue, 23 Sep 1997 15:19:49 -0500
Subject: <E36> Fan Blower Resistor

Tam,
I have replaced the blower resistor pack in my 1992 325i. Car was manufactured 9-91.
The resistor unit was found on the LEFT side of the plenum a bit higher than the top of the gas pedal and a bit to the rear. The ETM says this part is on the right side and shows a sketch with comments including the phrase "with glove box removed." Very misleading. Look on the left side. Just remove the kick panel on the left side. The old part had a white base making it easy to find against the black blower box.
Examination of the old part with an ohm meter showed that a corroded rivet holding a thermal switch caused a high resistance in the circuit. I tried compressing the rivet (banged it with a hammer and drift) but the rivet showed signs of decomposing so I bought a new resistor pack.
The new part cost about $46. It's better made and real pretty with a BMW logo and part number and the resistors are potted in a ceramic. Still kinda pricey though.
Al Cote, Windy City
Unofficial Homepages: [Home] [E12] [E24] [E28] [E30] [E34] [E36] [Z3] [E39] [E46] [X5/E53] [ALL] [ Help ]