Google Search

Search (Google!!)
Search Amazon.com
Home
E12
E24
E28
E30
E34
E36
Z3
E39
E46
X5/E53
ALL
Ron Stygar
Carl Buckland
Dale Beuning
Forums
Help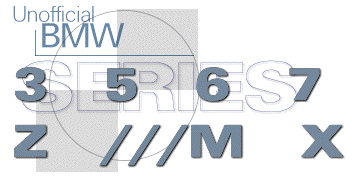 ---
UnofficialBMW.com
---
From digest.v9.n347 Sat Oct 17 13:23:16 1998
From: r browne <r_browne_at_yahoo.com>
Date: Sat, 17 Oct 1998 06:34:25 -0700 (PDT)
Subject: <E36>ECU filling with water.

I ws browsing through Import Car Magazine (www.import-car.com) and ran across a tech article that may be of interest to owners of E36's built before June 1994.
Appears that the intake plenum cowl for the heater/air conditioning blowing fan can sometimes get overwhelmed by water, particularly if the drains at the bottom of it are clogged. If the blockage is bad enough, the plenum fills with water, which can overflow into the ECU box, causing major havoc. If enough water fills the plenum, it may also drain into the passenger side footwell, but may go unnoticed because it ends up under the floormat. Apparently BMW has a Technical Service Bulletin out on this (sorry, dont knw the number) which details the fix, which is to add a third drain hole.
TSB's can be printed out for free at many major "Auto SUperstroe" type stores, such as Super Trak Auto (DC Area) via the "Mitchells on Demand" computers located on the counters..
Ron Browne
1992 318is
Bowie, MD
PS..please note my new email address...
---
DO YOU YAHOO!?
Get your free _at_yahoo.com address_at_http://mail.yahoo.com

Unofficial Homepages: [Home] [E12] [E24] [E28] [E30] [E34] [E36] [Z3] [E39] [E46] [X5/E53] [ALL] [ Help ]