Home
E12
E24
E28
E30
E34
E36
Z3
E39
E46
X5/E53
ALL
Ron Stygar
Carl Buckland
Dale Beuning
Forums
Help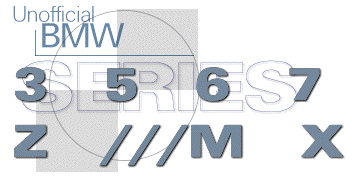 ---
---
From digest.v6.n649 Mon May 12 01:34:11 1997
From: rbrowne_at_erols.com
Date: Sun, 11 May 1997 21:11:47 -0400 (EDT)
Subject: <E36>Lights Pulsing

Someone wrote:
>I have a 1993 318i that has an intermentant problem where all lights will >pulse...headlights, dashlights...everything. The voltage regulator and
>alternator test fine. If anyone has found a problem like this please let me
>know the solution. It's driving me nuts!
>
I had the same problem...fortunately, it happened to me under warranty and it DID reproduce itself the morning I took it to the dealer about 2 years ago. They also told me the "specs for output are fine" for the alternator and voltage regulator, but they replaced the alternator anyway, under warranty. Cured the problem. Others have cured the problem by just replacing the voltage regulator.
Ron Browne
1992 318is
Bowie, MD
Unofficial Homepages: [Home] [E12] [E24] [E28] [E30] [E34] [E36] [Z3] [E39] [E46] [X5/E53] [ALL] [ Help ]