Home
E12
E24
E28
E30
E34
E36
Z3
E39
E46
X5/E53
ALL
Ron Stygar
Carl Buckland
Dale Beuning
Forums
Help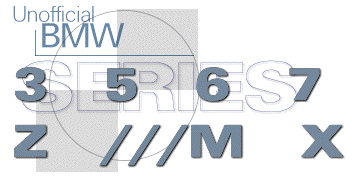 ---
---
From digest.v9.n733 Mon Dec 21 13:16:25 1998
From: "Brett Anderson" <bretta_at_bestweb.net>
Date: Mon, 21 Dec 1998 13:30:17 -0500
Subject: Re: window won't close E36 BA

>Date: Mon, 21 Dec 1998 23:33:59 -0800
>From: Rizvan Malik <rmalik_at_gpu.srv.ualberta.ca>
>Subject: window won't close
>
>Hello all,
>
> I have a 1992 325is whose driver side window won't close fully. You
know
>that little feature where when you open the door the window drops 1/2
an
>inch, well it won't go back that 1/2 inch to close completely. This is
a
>major pain in the ass because it thinks the door is open and so doesn't
>lock. I think it's probably because of the weather (-30degrees
Celsuis),
>and trust me driving around with a window open in this weather is not
fun.
>If anybody out there has any clue as to how to fix this problem please
let
>me know ASAP.
>
>Thanx Rizvan M.
You answered your own question.
The door doesn't know it is closed.
The microswitch in the door latch assembly is bad. You need a new door latch.
Brett Anderson
BMW and ASE master technician
http://frontpage.bestweb.net/~bretta

Please include all correspondence when replying to avoid confusion - Thank you

Unofficial Homepages: [Home] [E12] [E24] [E28] [E30] [E34] [E36] [Z3] [E39] [E46] [X5/E53] [ALL] [ Help ]