Google Search

Search (Google!!)
Search Amazon.com
Home
E12
E24
E28
E30
E34
E36
Z3
E39
E46
X5/E53
ALL
Ron Stygar
Carl Buckland
Dale Beuning
Forums
Help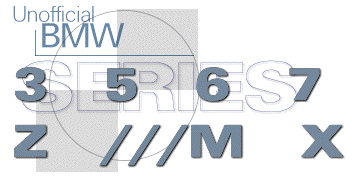 ---
From: RonStygar_at_aol.com
Date: Thu, 20 Jun 1996 02:18:23 -0400
Subject: 1996 E36 328is coupe ELECTRICAL TROUBLESHOOTING MANUAL

While scanning my BMWNA automobile suggested price book #88-88-7-000-776, I stumbled upon the following items.

    ETM E36 1996             #01-00-1-469-400 $48.00
    ETM E36 1996 supplement. #01-00-1-469-493 $25.00

---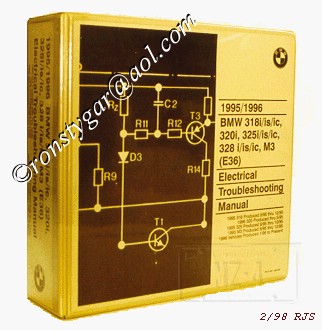 ---
I called P&W FOREIGN CAR SERVICE (BMW,VOLVO SAAB DEALER) 1-800-332-6322 (Ask for BMW parts/ DAVE) to see if they would verify, the above would cover my 328is, with BMWNA. They claimed these were the manuals for my vehicle. I received them today. BINGO!!!
The base manual covers:
1996 BMW 318is/c, 320i, 325i/c, M3 (E36) Vehicles produced 9/95 to present. That present being 12/95.
The supplement manual (U need the base manual with this) covers: 1995/1996 BMW 318i/is/ic, 320i, 325i/is/ic, 328i/is/ic, M3 (E36) 1995 318 produced 9/95 thru 12/95, 1995 320 produced thru 5/95, 1995 325 produced 9/95 thru 10/95,1995 M3 produced 9/95 thru 12/95 & 1996 vehicles produced 1/96 to present.
It looks like you need the supplement only if your vehicle was produced 1/96 to present. These are excellent manuals and come with a quality binder & cover pages. The above information comes from the cover pages.
While at it, I also puchased the E36 repair manual u-fiche #01-51-9-784-761 dated 02/96 $17.16 & the E36 parts u-fiche #01-07-9-782-877 dated 03/96 $20.00.These are also excellent. The parts fiche shows you drawings of the items which might be handy when taking something apart. It also shows all the parts items for all the models. For example on the center console it shows all the switches used for the two door, four door, manual and automatic. So if u want to add a switch to the console for whatever on your 2door coupe, it shows the options available. The repair fiche uses drawings instead of actual photos which makes things alot clearer to see. I purchased a 22x lupe from ADORAMA 1-800-223-2500 #PK1964 $34.70 with shipping, to read the fiche. Although this is workable, by the time you create a light box,the difficulty in keeping track of where u were & finger prints all over the constantly handled fiche, I wouldn't recommend it. I plan to call AUTOHAUS 210-821-6152 who (from the list) has a viewer for $159.00. I have yet to locate the part# for the specifications manual which gives all the torque, dimensional and sensor values etc.
Ron_at_unofficialbmw.com, FLI BMW, FLY BMW, Marlborough, CT
http://www.unofficialbmw.com/ronstygar.html
Unofficial RS/SS bender/shortener/installer +

Unofficial Homepages: [Home] [E12] [E24] [E28] [E30] [E34] [E36] [Z3] [E39] [E46] [X5/E53] [ALL] [ Help ]