Google Search

Search (Google!!)
Search Amazon.com
Home
E12
E24
E28
E30
E34
E36
Z3
E39
E46
X5/E53
ALL
Ron Stygar
Carl Buckland
Dale Beuning
Forums
Help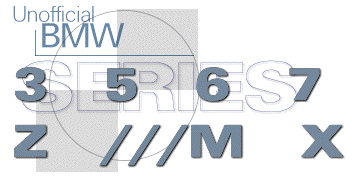 ---
---
From digest.v7.n552 Fri Nov 7 02:31:11 1997
From: chris_at_wallaby.corp.sgi.com (Chris Blumenthal)
Date: Thu, 6 Nov 1997 14:16:29 -0800
Subject: re.- '95 E36 M3 steering noice

Geoff Kao wrote:
> Hey guys, I noticed a very unpleasant sound lately coming from from my
> steering wheels/airbag when I turn my wheel, it almost sounded like sand
> paper grinding in there, but it goes away by itself sometimes. And it's
> like whenever I go to the dealer to tell them about the problem, the
> problem is always not there, any ideas as to what's causing this?
Yeah, I had a very similar problem. I had the grinding sound, but most often the problem evidenced itself as a clicking that could be felt and heard intermittently when the wheel was turned (but was almost impossible to reproduce when I was at the dealer...). After three trips to the dealer, they finally diagnosed the problem as a broken air-bag "coil." Sorry, I don't have the part number.
Chris Blumenthal
'96 328is
'95 M3
Unofficial Homepages: [Home] [E12] [E24] [E28] [E30] [E34] [E36] [Z3] [E39] [E46] [X5/E53] [ALL] [ Help ]