Home
E12
E24
E28
E30
E34
E36
Z3
E39
E46
X5/E53
ALL
Ron Stygar
Carl Buckland
Dale Beuning
Forums
Help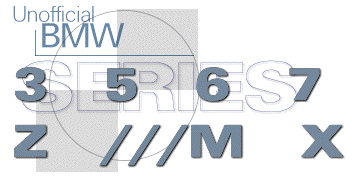 ---
---
From digest.v9.n356 Mon Oct 19 13:23:02 1998
From: "Peter Stuhr" <peterstuhr_at_hotmail.com>
Date: Mon, 19 Oct 1998 12:37:23 PDT
Subject: <E36> '95 M3 5th/2nd Gear Shift Problem - Update

I posted a few weeks back that I had trouble shifting into 2nd and 5th under hard acceleration and high RPMs. Actually, it wouldn't even go into 5th, and when it did it would slip back out into neutral after releasing the clutch. Not too good at 115 mph+!
Anyway, I took it to the dealer to check it out. They didn't give me a complete diagnosis, but ended up replacing the whole transmission and putting in new transmission mounts (all covered under warranty). Note: The dealer noted that I had Redline fluid in the transmission (ATF) and warned against using it - but still covered the job under warranty.
Thought some of you may want to know.
Peter Stuhr
Tarheel Chapter
'95 White M3
---
Get Your Private, Free Email_at_http://www.hotmail.com
Unofficial Homepages: [Home] [E12] [E24] [E28] [E30] [E34] [E36] [Z3] [E39] [E46] [X5/E53] [ALL] [ Help ]