Home
E12
E24
E28
E30
E34
E36
Z3
E39
E46
X5/E53
ALL
Ron Stygar
Carl Buckland
Dale Beuning
Forums
Help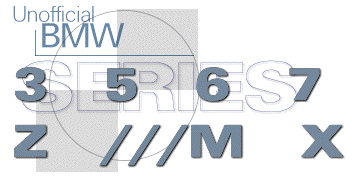 ---
---
From list-errors.700002333.0.700754162_at_boing.topica.com Fri Feb 4 12:46:45 2000
for <dale_at_unofficialbmw.com>; Fri, 4 Feb 2000 12:46:44 -0800
To: e36m3_at_topica.com
From: bobtunnell_at_aol.com
Subject: RE: [E36M3] 3.38 diff
Date: Fri, 04 Feb 2000 12:46:38 -0800

>Now this is a mod I'm interested in. Let us know how it turns out. Seems
>like it would be just the ticket to out-torque those pesky 3.2l cars!
I've had a 3.38 in my 95 M3 autocross car for almost a year now (legal upgrade in SCCA Street Prepared) and yes, it's an improvement over the stock 3.15.
For autocrossing it's a mixed blessing because it puts 2nd gear redline (Sharked to 7k) at only 57mph which means you're on the rev limiter a lot or shifting to 3rd a lot on faster courses. For ProSolo (tighter courses) it's definitely THSU.
95 M3 5spd came with the 3.15
96+ M3 5spd and 95 LTW came with the 3.23 all automatics came with the 3.38
--BT
---
Follow the U.S. presidential race on our Politics list! http://www.topica.com/lists/politics

Unofficial Homepages: [Home] [E12] [E24] [E28] [E30] [E34] [E36] [Z3] [E39] [E46] [X5/E53] [ALL] [ Help ]