Home
E12
E24
E28
E30
E34
E36
Z3
E39
E46
X5/E53
ALL
Ron Stygar
Carl Buckland
Dale Beuning
Forums
Help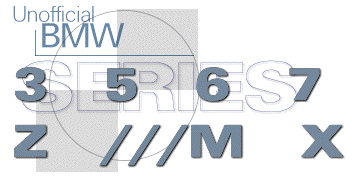 ---
From digest.v9.n567 Sat Nov 21 19:36:57 1998
From: John Firestone <john.firestone_at_nord-com.net>
Date: Sat, 21 Nov 1998 23:09:41 +0100 (MET)
Subject: Re: E36 rotor limits


Manuel Paredes writes:
>
> I'm not to sure that I do need new rotors cause I haven't measured them
> (By the way does anyone out there know what the minimum thickness for
> the rotors is? 95 325i)....

>From the E36 volume of "So wird's gemacht":

             New Thickness  Min. Thickness (stamped on disk)
 solid rear      12.0 mm        10.0 mm
 solid front     10.0            8.0
vented front     22.0           20.0

The thickness should be at least 0.4 mm more than this after machining. Disks should be replaced if the axial direction surface variation [Axialschlag der Bremsflaeche - I think my native American is failing me] exceeds 0.05 mm or there are large rifts or if there are any grooves more than 0.5 mm deep. I hope that helps.
-John '96 318is john.firestone_at_nord-com.net
Unofficial Homepages: [Home] [E12] [E24] [E28] [E30] [E34] [E36] [Z3] [E39] [E46] [X5/E53] [ALL] [ Help ]