Home
E12
E24
E28
E30
E34
E36
Z3
E39
E46
X5/E53
ALL
Ron Stygar
Carl Buckland
Dale Beuning
Forums
Help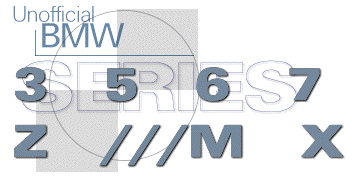 ---
Date: Mon, 5 Jul 1999 16:47:49 +0000
From: "Carl Buckland" <buckland_at_mail.xmission.com>
Subject: [E36M3] BMP Brake Ducting Kit

For brake cooling, I have been running 2.5" hoses from the front air dam into the center holes of the backing plates, thereby providing for at least some cooling. The problem was that I couldn't use a large enough hose, and the hose was, in any event, squeezed down into a smaller diam when it entered the center of the vented rotor, so it was *effectively* only about 1" in diam.
I just bought the brake ducting kit from BMP, and found it to work extremely well. I tested and raced three days with the POC last week, and then three more days this week with the Alfa Club, covering almost 900 miles of track, most of it in 90 to 100 degree temperatures. It was on the Buttonwillow track, which has a lot of very hard braking points, one being a 125-to-60 corner that requires a certain amount of trail braking; very hard on brakes. Very high rotor temperatures. I had ZERO brake fade, no rotor warpage, and decent pad wear. In fact, after 1350 miles, my PF 90's still have another day or two left in them.
The BMP ducting kit isn't a cheap fix, but rotors, pads, and cars (going into fast corners with no brakes) aren't cheap either. To install, you take off your wheels and rotors. Remove the backing plates, install BMP duct plate in it's place. Remove your original brake ducts from the front facia, run the provided 3" hosing from the facia holes, thru a newly-drilled 3" hole in the plastic fender lining, attach to the plate, and you are done. Takes about an hour total.
There are a number of brake cooling kits out there, and I have not, obviously, tried or seen them all. I have now used the BMP kit, and highly recommend it.
Carl
---
Date: Tues, 6 Jul 1999
From: "Carl Buckland" <buckland_at_mail.xmission.com>
Subject: [E36M3] BMP Brake Ducting Kit ( More Details on Install)


I received a number of private notes asking about more installation details, so here are a few:

Carl, I saw your post re the BMP kit:

>Remove wheels and rotors.
>Remove the backing
>plates, install BMP duct plate in it's place. Remove your original
>brake ducts from the front facia, run the provided 3" hosing from the
> facia holes, thru a newly-drilled 3" hole in the plastic fender
>lining, attach to the plate, and you are done. Takes about an hour
>total.


....did the BMP kit tell you where to cut the innner fender liner?
.....How do you attach the hose to the front facia?
....How do you guide the hose?

xxxxxxxxxxxxxxxxxxxxxxxxxxxxxxxx


Sorry. Like most new stuff, the brake duct kit doesn't come with instructions, but I suppose that if it did, you would be told to do about as I have described above and below.

I cannot say for sure where you cut for Will Turner's kit, as I have not seen it, but my guess is it is very similar. (Will is a good guy, with a lot of good products. I buy a lot from both him and from BMP). But as for the BMP kit: Use a circular saw (on a drill) to cut a 3" hole, *as close to the inside of the fender liner, and as close to the bottom* as you can. Plug up the old duct hole, which will be above and slightly inboard from your new hole, with duct tape, or even fashion a patch out of the platic that you removed from the new hole.

The hose will run almost directly back from the original brake duct inlet in the front fairing. After it passes into the fender well, run it "loosely" up and then down to the hole in the duct plate.

The duct plates are clearly "left" and "right." The inlet spout faces forward and slightly up.

The hoses can just be tie wrapped to holes around the holes where the original brake ducts (boxes) went, but the clean way is to take off the front bumper and glue NACA ducts to the back of your plastic bumper facia. The outlet of the NACA duct should be, of course, 3", to accept the hose.

All of the above can be accomplished more easily if you first remove your underbelly pan, if yours is one of the fortunate few cars that still has one ( just ripped off the remains of my third-and-last one).

Hope that helps. If these hints for the installation of the BMP Brake Duct Kit sound like they will work with the Turner kit, use them. If not, speak up if you have first hand experience.

Carl Buckland

Unofficial Homepages: [Home] [E12] [E24] [E28] [E30] [E34] [E36] [Z3] [E39] [E46] [X5/E53] [ALL] [ Help ]