Google Search

Search (Google!!)
Search Amazon.com
Home
E12
E24
E28
E30
E34
E36
Z3
E39
E46
X5/E53
ALL
Ron Stygar
Carl Buckland
Dale Beuning
Forums
Help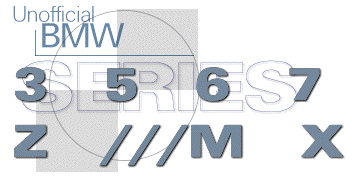 ---
---
From digest.v7.n1476 Wed Apr 8 12:43:03 1998
From: Dan <dturlik_at_pisces.interpath.net>
Date: Wed, 8 Apr 1998 11:02:53 -0400 (EDT)
Subject: Re: <E36> BMW Alarm install in '92 325i sedan?

> You may be out of luck. Early production E36 cars weren't wired for
> either the alarm or CD player. My (since sold) 92 325i wasn't. Chances
> are if you can't find it, it isn't there.
>
> Neil
> 96 M3
>
My wiring harness was quite hard to find in my 96 328i sedan. If I had just taken out the glove box I would have never found it. I had to pull the lower dash cover panel off, and dig around. Its pretty far back on the left of a bunch of electrical boxes. Its clipped to the bottom of the plastic holder for the boxes. I don't know if it's been mentioned before but Viper makes a direct plug-in adapter for the E36's that connects to their 500+ series of alarms. I just installed mine the other day. It took me about 2.5 hours to install the alarm, motion sensor, shock sensor and siren. The only soldering I had to do was the siren to wiring harness and the motion/field sensor to the shock sensor circuit. The motion/field sensor fits perfectly under the 2nd cup holder. Overall it was the easiest alarm install I have ever done. The alarm was $100, field sensor was $35 and the wiring harness was $20. Not a bad deal IMHO.
Dan
Unofficial Homepages: [Home] [E12] [E24] [E28] [E30] [E34] [E36] [Z3] [E39] [E46] [X5/E53] [ALL] [ Help ]