Home
E12
E24
E28
E30
E34
E36
Z3
E39
E46
X5/E53
ALL
Ron Stygar
Carl Buckland
Dale Beuning
Forums
Help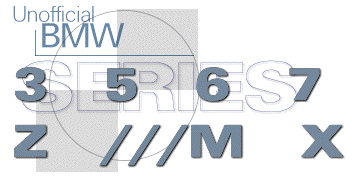 ---
Date: Mon, 29 Jan 1996 16:17:07 -0500
From: read_at_engr05.comsys.rockwell.com (Pete Read)
To: izabella_at_direct.ca, jrallen_at_halcyon.com Subject: Re: E34 M5 Sway Bars

Marek asks about sway bars:
>I have a 91 M5 ( E 34 ) which I really enjoy but dislike the heavy
>understeer. I am looking for an inexpensive and easy way to correct
>it. Would not the simplest way to eliminate this problem be to install
>a heavier anti-sway bar at the rear. Let's say 18 mm instead of 17mm.
>What do you think about this approach?
Yes, it makes perfect sense to me. I'd suggest a set of adjustable bars so you can experiment and get the balance you want. Even though a bigger rear bar is all that's needed to reduce understeer, adjustable front and rear bars give more potential car balance combinations.
Eurasian Auto has two E34 sway bar sets advertised in the January '96 Roundel.
E34 M5 Eibach 26mm/19mm $320
E34 535i Susp Tech 27mm/19mm $300
Sure sounds like both Eibach and Suspension Techniques think E34s work best with about 26/27mm front and 19mm rear bars. You may want to check some other companies, like Dinan.
Regards,
Pete Read
88 M5
Unofficial Homepages: [Home] [E12] [E24] [E28] [E30] [E34] [E36] [Z3] [E39] [E46] [X5/E53] [ALL] [ Help ]