Home
E12
E24
E28
E30
E34
E36
Z3
E39
E46
X5/E53
ALL
Ron Stygar
Carl Buckland
Dale Beuning
Forums
Help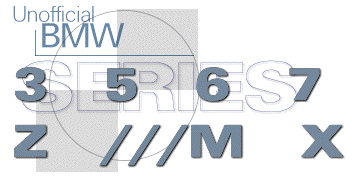 ---
From digest.v7.n660 Wed Nov 26 16:12:59 1997
From: Bob Hazelwood <woodyh_at_ix.netcom.com>
Date: Wed, 26 Nov 1997 10:17:01 -0500
Subject: Re: <E34> BMW 530IA Touring : Install stereo

> From: "Per Bertilsson" <per.bertilsson_at_mbox3.swipnet.se>
> Date: Tue, 25 Nov 1997 20:49:12 +0100
> Subject: BMW 530IA Touring : Install stereo
>
> Hi BMW friends,
>
> Have just bought a BMW 530IA touring -93 (E34) a i have run into some
> problem when installing i Pioneer CD. Power and battery power OK. I
> connect cable for the speakers ....but no sound. Is there some extra
> power unit for the speakers? Where can I find it? Or is there something
> I have forgotten?
> I happy for all the help I can get.....
>
> Best regards
> Per Bertilsson
> Bj rred
> Sweden

Assuming your car is the same as US spec. vehicles, attach the white wire from the OEM radio connector pin #16 to the remote antenna/amp turn on lead from the Pioneer. This will probably be blue or blue with a white sripe. This will turn on the BMW amp thats now quietly hiding in your rear side panel.

Bob Hazelwood
VP Product Management, a/d/s/

'93 525i 5-sp.

begin:          vcard
fn:             Bob Hazelwood
n:              Hazelwood;Bob
org:            a/d/s/
email;internet: woodyh_at_ix.netcom.com
title:          VP Product Management

Unofficial Homepages: [Home] [E12] [E24] [E28] [E30] [E34] [E36] [Z3] [E39] [E46] [X5/E53] [ALL] [ Help ]