Home
E12
E24
E28
E30
E34
E36
Z3
E39
E46
X5/E53
ALL
Ron Stygar
Carl Buckland
Dale Beuning
Forums
Help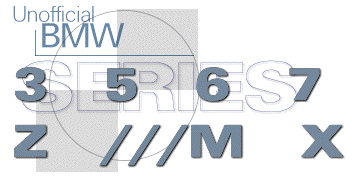 ---
Subject: RE: E34 Cd changers


Note: This list was originated by Phil Marx, but I have extended and 
modified it.  I removed his name so he wouldn't be associated with 
any errors I introduced. -Dale Beuning

Radio Model             year/application   changer              adapter
- ------------          ----------------   ---------------      ----------
CM5908  (Alpine)                           6 disk 
 infrared slot)         89-91 E34            88 88 1 600 220
88 881 600 175                               82 11 1 467 002
                                             Alpine#TR1600 
                                           12 disk
                                             88 88 1 600 178
                                             Alpine#TR1008

KE83zbm (Pioneer)       89-93 E30         CDX-M30 ("M" series)  None needed
(+) (-) (Mode) at lower right corner

CM5901(Alpine,          91-95 All         CDX-M30               AAMP BMWPIO
 Alpine2, Alpine3)

KE91zbm (Pioneer        91-95 All         CDX-M30               AAMP BMWPIO
 PIO, PIO2,*not PIONEER4*)

KE????  PIONEER4        91-95 All         Factory BMW only           n/a

Any Pioneer "M" series changer will work, the CDX-M30 is just the most
current.

---
When the a early CD ready radios came out in the E30s you could only use the Alpine with the Alpine changer and Pioneer with Pioneer. BMW's bulletin said:
"These components are only compatible with each other, the use of other components is not possible and may cause damage to either unit." The original CD for the Alpine was the drop down door 12 disc unit, later the shoe-box sliding door 6 disc unit, from Alpine. My info from AAMP says "aftermarket Alpine CD changers do not use the same command protocol as BMW's Alpine built changer. Consequently they will not work on any BMW system."

I tried the CDX-M30 on one of the two "slot" units I have in stock. The plug-in jack at the back of the units is identical. As soon as the system is connected it blows the little fuse hidden under the cover next to the speaker jacks in the back of the Alpine "slot" factory head unit.

The next question asked was: "Do I have to replace the head unit to put a CD in a car with the Alpine Infrared Slot-type unit?

Not exactly. There is a BMW unit which will work with that car. You will need a BMW Alpine CD changer and a data cable. You can probably use either the 88 88 1 600 178 (12 disc unit) or the newer 88 88 1 600 220 (6 disc unit) which superceded to the 82 11 1 467 002. Or basically any *Alpine* BMW unit with a 13 pin plug arranged in 3 rows of 4 + 1 row of 1. If the factory changer says CDX-M61 and has the same plug, it's a Pioneer and won't work. Or simply swap your infrared slot with similar year car without the slot, but with 6 station memory buttons, preferably one with the model #KE83zbm, which is a Pioneer, and then the aftermarket CDX-M30 changer will go right in and comes with it's own cables. Any of this help?
---
---
OEM Interface by PIE
>From the desk of Ron McElroy

Subject: BMW CD changer converter program.

The BMW CD changer program can be divided into three segments.

The first segment covers the cars from 1989 through 1991. These vehicles which have a CD changer controller radio can be fitted with an aftermarket CD changer, the CDXM30 by Pioneer. You must use the aftermarket CD data cable in this installation, do not use the OEM CD data cable.

The second segment cover the BMW model years from 1991 through 1994 which have CD changer controller radios and are fitted with a 14-pin data cable which is terminated in the vehicle's trunk. The pioneer CDXM30 changer can be installed in these vehicles in conjunction with the OEM Interface CD Converter, part# BMW-PIO/M. One end of the BMW-PIO/M plugs into the 14-pin OEM CD data cable and the other end plugs directly into the Pioneer changer's 6X7-pin chassis plug, thus eliminating 20 feet (the aftermarket CD data cable) of extra CD data cable.

The third segment of the BMW CD changer program involves vehicles which started shipping in late 1994 and covers the 1995 model vehicles to present. These vehicles have a different CD data chip in their radio which does not allow the OEM radio to respond to the aftermarket Pioneer CDXM30 changer. Please note, the aftermarket changer(Pioneer CDXM30) with the OEM Interface converter will function in these vehicles. The three new radios with the different data chip can be identified by bring up their series number on the radios display screen by pressing and holding down the negative(-) tuner button and the program button. These three radios are the Alpine series V(five), the PIO BMW Four series, and the PIO P102 series radio.

Regards,

Ron McElroy
Director Product Development and Dealer Technical Support OEM Interface by PIE (Precision Interface Electronics) Dealer Technical Support Hot Line: (619) 632-5181 fax (619) 632-9139

NOTICE!
<basically stuff mentioned above cut>
An OEM interface by PIE device which will allow an aftermarket CD changer to be installed in these latter vehicles is currently in R&D and will be available very soon.
---
From digest.v5.n251 Wed Sep 18 17:53:08 1996
From: BMW_at_comet.net (Phil Marx)
Date: Wed, 18 Sep 1996 18:51:08 -0400
Subject: <All> CD changers Pioneer M-series


There has been some discussion on the list about the compatiblity of the Pioneer M-series after-market CD changers to the Factory CD-Ready radios. I've been playing with these for about a week now trying to fit one to a '93 740i for a customer and have come up with the following compatibility findings through frustration and trial and error. Talking with both technical staff at Crutchfield and AAMP of America, who make the interconnect adapters for such applications, I find even these supposed experts have misinformation. The adapter listed is about $20 from Crutchfield and connects the factory CD data cable to the Pioneer after-market data cable. Removing the threaded connector on the factory cable and taping the two together will give a better connection. There exists some confusion as to the naming of the factory radio types, either by label or by read-out from pushing (-) and (Program) buttons simultaneously. I will list them both ways. I am no expert, and would appreciate any input or corrections which would help to clarify this confusing compatibility issue. This obviously only applies to CD-Ready factory radios, those with (6) station preset buttons.

Radio Model           year/application        changer            adapter
- ------------          ----------------     ---------------      ----------
CM5908  (Alpine)        89-93 E30         factory BMW only         n/a
 infrared slot)         89-91 other

KE83zbm (Pioneer)       89-93 E30         CDX-M30 ("M" series)  None needed
(+) (-) (Mode) at lower right corner

CM5901(Alpine,          91-94 All         CDX-M30               AAMP BMWPIO
 Alpine2, Alpine3)

KE91zbm (Pioneer        91-94 All         CDX-M30               AAMP BMWPIO
 PIO, PIO2,*not PIONEER4*)

CM5903L (Alpine5?)      95+ All           Factory BMW only           n/a

KE93zbm (Pioneer)       95+ All           Factory BMW only           n/a


If your Pioneer label says "KE91zbm version 4" or reads "PIONEER4" when pushing (-) and (Program), the CDX-M30 will not be recognized by the head unit. The disc magazine will load and index, and eject when asked, but it cannot be accessed by the head unit, even though the factory changer will work with either version, the aftermarket M-series changer will not. The Pioneer4 is showing up on '93 740i models and as a warranty replacement for the earlier Pioneer.
If you have the later head unit that will (-) (program) its name, but it's an early production E36 4dr w/o factory CD wiring, the only way to make the M-series changers work is to get the factory wiring and the adapter and connect to the Pioneer changer data cable. There is no cheap way that I know.
95+ information is from AAMP and I have not tried anything yet. I believe the 318ti uses a different head unit, like the P102 of the E36 318i w/o weather band, and might work, again, I haven't tried it out.
As previously mentioned on the digest, the CDX-M30 is available quite cheaply at times. Crutchfield shows a list price of $558 but they have returned units in their outlet priced at $399, dropped to $349 then listed on sale at $339 and some have bought them for even $100 less. They will not mail-order the returns and I don't know what they sell new ones for. Any Pioneer "M" series changer will work, the CDX-M30 is just the most current.
I hope this helps somebody, 'cause there was no help for me when I needed it.

Phil Marx    BMWCCA #6021 BMWMOA #2024 (804) 293-8269    fax (804) 293-0817
Bavarian Motor Warehouse, Inc.         Check out our Web page: See our 1600
416 W. Main St.                        Cabriolet and other lovely BMWs.
Charlottesville, VA.  22903            http://www.comet.chv.va.us/bav/

---
From digest.v5.n276 Tue Sep 24 08:30:53 1996
From: Emedia01_at_aol.com
Date: Tue, 24 Sep 1996 09:27:22 -0400
Subject: AAMP BMWP10 source


>Regarding:
>From: Tim Tsai <ttsai_at_netdoor.com>
>Date: Sun, 22 Sep 1996 06:14:58 -0500 (CDT)
>Subject: Source for CD changer cable (AAMP BMWPIO)

> Anybody know where I can order the CD Changer adapter cable (AAMPBMWPIO)?
>snip<

The manufacturer is;
Stinger Electronics / AAMP
13160 56th Ct. suite 508
Clearwater, Florida 34620
813-572-9255
813-579-9326 FAX

---
From digest.v5.n347 Mon Oct 7 18:52:35 1996
From: Don Eilenberger <deilenberger_at_monmouth.com>
Date: Mon, 7 Oct 1996 20:59:57 -0400 (EDT)
Subject: THANKS MUCH! CD player installed!


Thanks to ALL of those who helped me track down how to install the CD changer in my new(to me) E34.

The job turned out being very simple, once the correct part was tracked down.

Long story short:

My '92 has a Pioneer stereo (press PROG/- buttons - sez: Pioneer BMW). My changer was one made for use with an FM modulator (which is how is lived on BOHICA for 4 years). It is a Pioneer CDX35FM (the FM indicates the modulator model).

These went together and work fine using the Periperhal cable as per a message from Gordie (their tech person, who replied very quickly to my request):

>Don,
>Thank you for the inquiry.
>You have a unique situation but i think i have the answer. The CDXFM35 is
>virtually the same as the CDX-M30. The only difference in the CDXFM35 is a
>compression circuit that limits the dynamics of the audio. The BMWPIO
>adapter will work and provide you with direct access to the changer. Here is
>the catch. If i am not mistaken the FM modulator has the cable soldered to
>to its circuit board. If the cable does unplug from the FM modulator then
>use it with the BMWPIO.
>
>If the cable is soldered you need the cable from a CDX-M30 or equivelent for
>the install. The cable that is in the back of your BMW is a 14 pin DIN. The
>BMWPIO plugs into that DIN and converts it to a 13 pin DIN. The Pioneer
>cable will now fit this 13 pin DIN connector.
>
>You will still need the 2 pin power connector for either install. Try a
>local stereo shop for both the 2 pin connector or the cable if you need it.
>
>Hope this helped.
>
>********************************************
>Visit the Stinger / Peripheral website
>http://www.stinger-aamp.com
>Gordie Kay
>Technical Department
>e-mail: stinger1_at_mindspring.com
>********************************************

Turns out the cable (I found it at a local car-audio shop, same one I bought the CDX 4 years ago) - plugged directly into the CDX35FM and directly into the BMW data cable. Hooked up power - and it came right on, works fine. Mounted it where BMW does in the trunk and dressed the wiring.. looks factory, works factory (all functions handled by the radio).

The notes that came with the cable mention:

Years '89-91 - you need the mfg's cable.

Years '92-94 - you need just the adaptor cable from Perpherial

Adaptor: Peripheral Electronics, Inc, BMWPIO Adaptor for '92-'94.

call Peripheral at 813-572-9255, or find at local shop.

Years '94-on, BMW screwed with the radio so aftermarket changers don't work, Perpherial is working on it, but warned it won't be REAL SOON NOW..

Best, and special thanks to:
Gordie, Warren Brown, Phil Marx, Jeffrey, David Skirzenski, Dale Beuning, Peter Rhim. (If I missed anyone - sorry.. got lots of info rather quickly!)

As usual - the list answered my questions quickly and accurately! Sure beats a sharp stick in the eye!
---
Don Eilenberger
Spring Lk Hts, NJ, USA
deilenberger_at_monmouth.com
---
With the help of some list-mates, I got the following 6-disk player to work perfectly in my 1992 325i.
Head Unit: Pressing PROG and - displays "ALPINE2"
Player: Pioneer CDX-M30 ($299 delivered from S.B.H Enterprises, 800-451-5851). New, full warrenty.
Adaptor: Peripheral Electronics, Inc, BMWPIO Adaptor for '92-'94. ($30 from local shop, or call Peripheral at 813-572-9255)
Install: Car prewired. Power cable behind panel near passenger rear speaker. Data cable in passenger rear tail light cover. Didn't need power wire on Adaptor. Just plug and play. No need to remove or touch head unit.
Comments: All head unit functions work (select disk, skip track, fast forward, scan, random, last position memory when car is turned off, etc). Has never skipped, even over big bumps and aggressive driving. A bit slow between disks though (about 10 seconds to switch and start 1st track).
---
Unofficial Homepages: [Home] [E12] [E24] [E28] [E30] [E34] [E36] [Z3] [E39] [E46] [X5/E53] [ALL] [ Help ]