Home
E12
E24
E28
E30
E34
E36
Z3
E39
E46
X5/E53
ALL
Ron Stygar
Carl Buckland
Dale Beuning
Forums
Help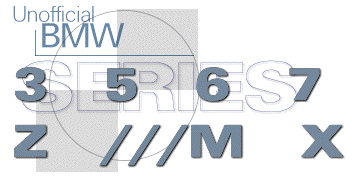 ---
Date: Sat, 6 Mar 1999 13:23:27 -0500
From: Ted Telesky <TTelesky_at_compuserve.com>
Subject: [E36M3] <E34> 540 "sport package"?

<<<<<How can I tell if my E34 ('95 540) has a "sport package" installed? (Does such a thing exist, and if so, what all does it entail?)>>>>>
Before I bought my M3 I was looking at 1995 540i's. I get confused by the many 540i sports being sold which were not 540i M-Sports. What I found was the 540i was available with a "sport package" which added a 6 speed manual and sport seats to the base 540i. There are a some of these out there. The 540i M-Sport is a model designation - not a package. Below is the list of changes a 540i M-Sport has (this was from a dealer who was selling one)
ANd of course - the final way to spot a M-SPort is the price. I found 2 of these recently, both over $40,000, versus 540i 6 speeds at $30,000.
1995 540i M-Sport.
The M-Sport package was a $7,600 option package that was available on only 200 cars imported to the US after production at the end of the E34 model run. 65 have automatics and the rest have the 6-speed manual.
Specifications unique to this model were as follows:
High-performance M5 ABS brakes
Servotronic steering
M5 Nurburgring suspension - self-leveling EDC III with Sport and Adaptive Program settings
8x17 M5/850CSi two-piece Turbine II forged alloy wheels with 235/45x17 Michelin Pilots
M5 Aerodynamic Package: Front spoiler, rocker sill moldings, rear apron, M side mirrors
Sport Seats with Montana Leather
10 Speaker 200 watt AM/FM Cassette Stereo
Leather steering wheel with M color stitching
Door sill covers with M logo
Illuminated M shift knob
There were only 4 available options on this car:
All Season Traction (ASC+T)
Heated Front Seats
BMW Trunk-mounted 5 Disc CD Changer
BMW CMT-2000 Voice-activated, Portable Integrated Cellular Phone
For you interest, a car as above with 20,000 miles was priced at $46,000.=
Ted
Unofficial Homepages: [Home] [E12] [E24] [E28] [E30] [E34] [E36] [Z3] [E39] [E46] [X5/E53] [ALL] [ Help ]