Home
E12
E24
E28
E30
E34
E36
Z3
E39
E46
X5/E53
ALL
Ron Stygar
Carl Buckland
Dale Beuning
Forums
Help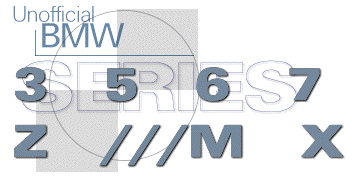 ---
TITLE All E34 owners - E34 leading edge of both rear doors window frame rusting
From: Christopher Cheung chrischeung_at_usa.net
Date: Sat, 08 Aug 1998 02:57:20



I have an '89 E34 525I, with 55K miles on it, always garaged. I just
noticed that the leading edge of the rear door, where the window frame
meets the actual door is rusting on the inside. This is the metal inside
the rubber protective strip around the window frame. To see it properly,
you need to open the front or rear door, and it is above the top rear
door hinge. The metal within the rubber has been rusting, and has
bubbled for about half an inch within the rubber. The metal is exposed
out of the rubber seals at that point. This is on both rear doors.




Does anyone else have this experience? Is there an easy solution to this
problem? I am wondering if that piece of the frame can be removed, and
treated or replaced. Any advice would be welcome. As it appears on both
doors, I guess this is a design or manufacturing fault – perhaps it only
occurs on the early E34s? Other E34 owners, I suggest you also check
this area.




Any help would be most welcome.  Thanks all.






Unofficial Homepages: [Home] [E12] [E24] [E28] [E30] [E34] [E36] [Z3] [E39] [E46] [X5/E53] [ALL] [ Help ]