Google Search

Search (Google!!)
Search Amazon.com
Home
E12
E24
E28
E30
E34
E36
Z3
E39
E46
X5/E53
ALL
Ron Stygar
Carl Buckland
Dale Beuning
Forums
Help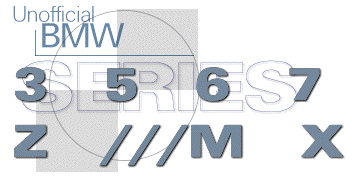 ---
From digest.v7.n742 Wed Dec 10 11:52:52 1997
From: "Steve D'Gerolamo" <steved3_at_idt.net>
Date: Wed, 10 Dec 1997 06:42:30 -0500
Subject: Factory Exhaust-E34


>From: "Philip E. Clark" <engarcon_at_earthlink.net>
>Date: Tue, 9 Dec 97 19:37:45 -0400
>Subject: E34 Exhaust
>
>I know this is an old question but I want to know my options before I go
>to an OEM exhaust.
>I like the factory, but want to improve the performance.
>
>Can anyone recommend a good conservative exhaust for my E34 '89 535i?

---
Phil....I also have an 89 535i and needed an exhaust recently. I went with the factory system which fit perfectly, flows well and is very quiet. Price is around $400 to the cat (1 piece) or you can buy just the rear section (also factory) for around $250. The only other consideration was Remus...if you go with this, make sure and use the heavy duty hangers (most of the aftermarket exhaust hardware & hangers are of very poor quality). SD
---
Steve D'Gerolamo - The Ultimate Garage
201-262-0412 / steved3_at_idt.net / http://www.ultimategarage.com

Unofficial Homepages: [Home] [E12] [E24] [E28] [E30] [E34] [E36] [Z3] [E39] [E46] [X5/E53] [ALL] [ Help ]