Home
E12
E24
E28
E30
E34
E36
Z3
E39
E46
X5/E53
ALL
Ron Stygar
Carl Buckland
Dale Beuning
Forums
Help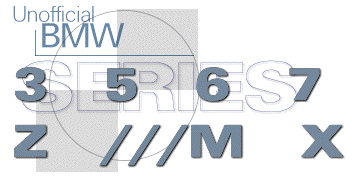 ---
Date: Tue, 11 Aug 1998 17:29:02 +0100
From: David Lefebvre <dlefebvre_at_cochrane.co.uk>
Subject: E34 language setting

My UK Haynes manual states that the procedure is as follows:
"With all the doors shut and the ignition on (engine not running) press the trip reset button until the panel displays the correct language. There are eight languages. If you wish to bypass a particular selection release the reset button and press again - the display will advance to the next language. Once the correct language has been selected, continue holding the reset button until the display reads I.O. Version 2.0, then H.P. Version 3.4."
Can I state that I have never carried out this procedure on my own car, and you may therefore wish to wait for confirmation of the process from another source before trying this.
David Lefebvre
Unofficial Homepages: [Home] [E12] [E24] [E28] [E30] [E34] [E36] [Z3] [E39] [E46] [X5/E53] [ALL] [ Help ]