Home
E12
E24
E28
E30
E34
E36
Z3
E39
E46
X5/E53
ALL
Ron Stygar
Carl Buckland
Dale Beuning
Forums
Help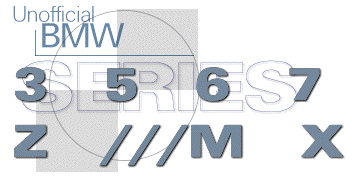 ---
---
From digest.v7.n34 Fri Aug 1 15:14:27 1997
From: "Grant M. Wells"<gwells_at_ecc.com>
Date: Fri, 1 Aug 1997 10:24:20 -0400
Subject: Re: E30 Widest wheel fitted
From: Grant M. Wells_at_ECCI on 08/01/97 10:24 AM

All,
Thanks for the feedback on widest wheel/tire combo on a E30 325i(s). Widest award is still open with 225/45 R16 the most common.
The best answer to my question came via the Tire Rack's BFG T/A R1 size guide with tread width specs.
Since I want a 16x8 wheel with the largest tire patch possible, I choose the 255/50 ZR16 for the rear. I will probably stick with 225/50 n the front (I will have to see how the ABS handles the difference otherwise disconnect which seems to be the way most racers are going at least with SCCA & Club racing.)
No other combination other than a 15x8.5 offers close to a 10 inch tire patch. I am willing to settle on a 50 series aspect since the 16 inch diameter cuts down the sidewall anyway.
Good thing I waited on lowering the car.
See ya at the track.
Grant
gwells_at_ecc.com
Unofficial Homepages: [Home] [E12] [E24] [E28] [E30] [E34] [E36] [Z3] [E39] [E46] [X5/E53] [ALL] [ Help ]