Google Search

Search (Google!!)
Search Amazon.com
Home
E12
E24
E28
E30
E34
E36
Z3
E39
E46
X5/E53
ALL
Ron Stygar
Carl Buckland
Dale Beuning
Forums
Help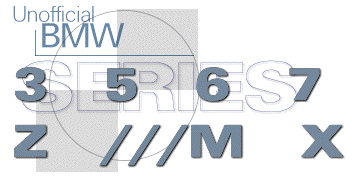 ---
---
From digest.v7.n35 Fri Aug 1 15:18:55 1997
From: TED_KEATING_at_HP-Andover-om3.om.hp.com
Date: Fri, 1 Aug 97 13:54:56 -0600
Subject: Responses on brakes/rotors/shocks for 89 325i (long)

Item Subject: cc:Mail Text
List members -

     I received a number of recommendations on shocks and brakes/rotors for 
     a 1989 325i.  Below are the shortened responses.  Thanks to all who 
     responded!  I'll go with the stock rotors, Metalmaster pads, and 
     (haven't decided) Bilstein HD or Koni shocks.
     
     The reply is long but if you're in the market for the advice it's a 
     good read.
     
     Ted Keating
     _________
     Be sure to check out the E30 page for more info:
     www.unofficialbmw.com/e30.html
     
     I would recommend Repco/Axxis Deluxe pads The factory rotors (12 month 
     warrenty!) The Ultimate Garage see my parts page 
     www.unofficialbmw.com/parts.html
     can supply all of these parts (I think), but the bolts for sure.
     For shocks I've been using Boge Turbo Gas, because you can get all 4 
     for $200. I'm thinking about getting Bilstein's next time though for 
     around $400.
     Dale
     ____________
     I just put Koni's on my 88 325iX.   Heaven.... Firm yet comfortable.  
     I was a little concerned as Koni calls their shocks sport-shocks, but 
     they are great.  If you go this way, make sure you get the hydraulic 
     rears. Originally Koni sent me the high pressure gas rears. They had a 
     severe rebound that over powered the rear springs. Koni send me the 
     hydraulics under warranty. The Konis have an adjustable rebound, the 
     compression is not adjustable.
     
     Bilsteins; I had them on my 320i and the rebound was too severe.  
     Never again....If you go the Bilstein way and want comfort, IMHO; do 
     NOT get Sport shocks, only HD (heavy duty).
     
     Cost ? The Koni's were $480 from RD Enterprises in San Diego ($50 
     cheaper than Imparts in St Louis)  The Bilsteins were in the $369 
     range from Bavarian Auto in New Hampshire.  Koni or Bilstein shocks 
     will last 100k miles.
     
     If you are the type to sell the car in a year or two, or cost is a 
     factor, you may want to consider getting Boge Turbo Gas shocks. I have 
     heard good things about these shocks. These are in the $225 range from 
     Bavarian Auto in New Hampshire.
     
     All prices referred to are for an iX which are more expense than a 
     325i. (plus installation)
     I would appreciate knowing how it works out.
     
     Regards,  Alan Alfano
     ________
     I have an '84 325e that sees no track time either.
     Brakes: 
     Use OEM Rotors.  You should be able to get a discount from the dealer 
     (if you are a BMW-CCA member) or through the Roundel.  There was some 
     problem with after market rotors a few years back.  
     
     Pads: I like Repco Deluxe, (the company has been sold so it is no 
     longer Repco,  but it is the same company that make "Metal Masters")  
     The pads seem to last, don't squeal, and are low dust.
     
     Shocks and struts:  I put Boge turbo gas on my car last fall. I felt 
     for the type of driving I do it was not worth the extra $$ for 
     Bilstein's.  If you do go with Bilstein's get the H.D.s not the 
     sports. I have sports on my tii and it beats the **** out of you.
     
     I purchase my parts from: the local dealer (at 15% discount), BMP or 
     Bavarian Autosports.  BMP & Bavarian have webpages.
     
     Rob Shively 
     _________
     ted:  i just went thru this a more myself.  here's a bit of what i 
     determined listed loosely in order of significance.  Best parts source 
     for hardware is steve d'geralamo - hands down.  he know the spec.'s on 
     all the hardware that both he & his competition sell. Steve is also 
     where i buy most of my parts from.  his website is 
     http:\\www.ultimategarage.com
     
     rotors - best factory is balo.  i went w/ ATE though because i wanted 
     to try their new factory slotted rotor.  either are good. 
     girling's product quality is generally on par w/ate but balo is still 
     better.
     
     pads - depends on your priorities.  if brake dust annoys you, go with 
     repco deluxe pads for < $40 per axle.  if dust doesn't matter, factory 
     jurid pads are probably the way to go at about the same price.  if you 
     want to spend a little more for extra stopping power and don't care 
     about dust, go w/ ferodo pads available from korman 
     (http:\\www.kormanfastbmw.com) or aj usa (http:\\www.ajusa.com) 
     
     shocks - bilstein or koni are the top brands w/prices to match. boge 
     is a more reasonably priced product.  all three offer shocks of two or 
     more "firmnesses".  normal & firm are generally the designations.  
     koni's are also adjustable.  fwiw, boge was oem for the e30 m3 so i 
     went w/them.
     
     since you're doing this much, i suggest you check the car's control 
     arms & ball joints (which are integral) and the control arm bushings.  
     keeping the bushings in good shape helps the ball joints last longer 
     imho (but i can't prove it).  check the brake lines too whilst you're 
     there and its definitely probably time to change the brake fluid.
     steve can help you with any all questions about parts selection and 
     related maintenance items to consider.
     
     jon lewis
     89 325i too
     __________
     I think (from my experience with my 1988 325IS) that you will not go 
     wrong with Bilstein Heavy duty (not sport) shocks and struts, the 
     Repco/Pbr delux brake pads.
     
     The Bilsteins will give you a nice tight ride with great handling but 
     you will not smash thru the bumps.
     
     The PBR brake pads might offer a little better perf than the stock 
     pads, but they are quiet, clean and easy on the rotors.
     
     If you decide on some track time, try the repco/delux metal masters.
     
     Rotors? Go with the stock oems. You can't lose with this setup.
     
     The best price I got on the Bilsteins was from all Euro at 
     800-255-3876.
     
     Don Stevenson
     ________
     i like the looks of the cross drilled rotors but for non track driving 
     just go for the standard rotors.  the for brake pads I have tried two 
     different types.  the current ones are the padgit, i believe thats the 
     way it is spelled, organic.  the pads work well but leave a lot and i 
     mean a lot of dust on the wheels.  i believe i will go with the rebco 
     ones next time.  from what i have read in the digest they do not dust 
     as much.  the metal master will give you the most positive braking but 
     they have the potential for wearing the rotors.
     
     for shocks i have only one that i would recommend to everyone and 
     those are the bilsteins.  if you do a fair bit of agressive driving go 
     for the sports otherwise, the standard ones will work just fine.
     
     -mark
     ___________
     first of all, i would be very surprised that your rotors are worn 
     after only 56K miles.  you probably on need to change the pads.  the 
     rear rotors will definately not be bad. i finally changed mine at 175K 
     because i felt there should be somthing wrong at that mileage.  in any 
     case, my first rotor choice is the factory.  they come with a warranty 
     for one year that they will not warp, no mileage limit.  stay away 
     from ATE rotors.  warp very easily and will only withstand one pad 
     cycle  ie. can not put second set of pads when time comes because they 
     will definitely warp.  i have had no trouble with the brembo 
     replacements, decent price.  one rotor that would be an upgrade are 
     the ATE powerstop.  they are slotted and are of better construction 
     then the regular ATE, but since you only use your car for the street, 
     save the 20% additional cost.
     
     now pads are a neat story too.  the factory are very good, but they 
     produce a lot of dust.  the pad i would recommend are the pbr/repco 
     deluxe.  very good for what you are doing and very little dust and the 
     color of the dust is light.  BUT you have to make sure that you use 
     some kind of antisqueal device....  paste or strips.
     
     adjustables are great.  i love them, but i go to the track and 
     autocross. if you are just going to use them on the street, waste of 
     money.  the bilstein sports may even be too stiff for your taste.  try 
     the bilstein heavy duties. great stuff.  stiffer than stock, but not 
     harsh.  stay away from the boge. you might as well have gotten stock.

Unofficial Homepages: [Home] [E12] [E24] [E28] [E30] [E34] [E36] [Z3] [E39] [E46] [X5/E53] [ALL] [ Help ]