Home
E12
E24
E28
E30
E34
E36
Z3
E39
E46
X5/E53
ALL
Ron Stygar
Carl Buckland
Dale Beuning
Forums
Help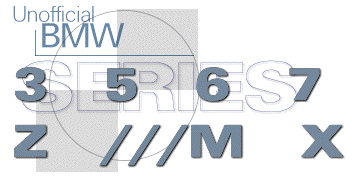 ---
---
From digest.v4.n595 Wed May 15 00:10:24 1996
From: loren_at_squeezebox.com (Loren Luke)
Date: Tue, 14 May 1996 16:23:55 -0700
Subject: <E30> Steering rack

Charles,
I replaced the rack on my E-30 325e at about 160,000 miles. It really wasn't too hard to do, except for the place in the Haynes book where they say to ~just slide the rack out the side. I couldn't get the thing to slide out either side.
There are two ways to get the rack out once it has been fully disconnected: #1, unbolt the motor mounts, and lift the engine up a couple of inches. (Be careful nothing hangs up when you do this...). #2 (which I did) gently bend the two tabs down until the rack can slide out the bottom. I hated doing this, but it worked, and has been fine ever since. You might think about replacing your stock rack with an E-30 M3 rack if you want a lot more response. I didn't do it back then, because I didn't think of it at the time. Since then, I've helped a friend up in Portland replace his 1990 325i's struts, strut bearings, shocks, calipers, master cyl, rotors and control arm bushings with the M3 parts. It's a different car altogether now. We're planning on adding the M3 Rack and some additional negative camber next time we hoist it up in the air. (It already has Dinan's chip, springs, and boge shocks when we started.) Good luck!
-LorenLoren
Luke, SqueezeBox Consulting: Golden Gate Chapter BMW CCA #91000

      1990 M3, Arrest-Me-Red 60,000 miles --> www.squeezebox.com/car.html
                     1985 325e (Dinanized) 206,000 miles (1.106 light-seconds)
                                                         ___________
                                                     /____________\
                                                   ( OO====00=M3=OO )

____________________U___________U_______________________ SqueezeBox does Digital Video capturing, editing, and compression for CD or Web.
---
From digest.v4.n599 Wed May 15 13:20:44 1996
From: <jpdarwak_at_ix.netcom.com>
Date: Wed, 15 May 96 14:17:52 -0400
Subject: <e30> Steering racks

>It might be that you really do need a rebuilt steering rack, but since that
>is going to cost you up to $1000, I would try the inexpensive solution first!
> -- Adam Rodman
Whoa!! $1000.00! I had the steering rack problem last summer. I went around to several shops and everyone wanted to take out my rack and swap in a rebuilt. Then I went to my regular mechanic (who I thought would be too expensive) and he said "let's rebuild it, the rebuild kit only costs about $30.00 and labor will run about $300". That's what I paid - $330.00. Short of doing it myself this was the cheapest route to go. So I suggest to everyone, try and see if you can get the rack rebuilt (and if you own an e30 you will have to make this choice at some point) and it may work out that you will pay less than half the $600+ quotes I saw.
my non-racist, non-nationalistic, pertinent-to-the-digest, $.02 worth,
John Darwak
'85 325e (154k mi.Bilstein Sportkit, ST bars have arrived!) '94 Blazer 4X4 (Tow vehicle and pothole cruiser) '93 Saturn SC2 (Wife's. Car should be sold w/earplugs)
Unofficial Homepages: [Home] [E12] [E24] [E28] [E30] [E34] [E36] [Z3] [E39] [E46] [X5/E53] [ALL] [ Help ]