Home
E12
E24
E28
E30
E34
E36
Z3
E39
E46
X5/E53
ALL
Ron Stygar
Carl Buckland
Dale Beuning
Forums
Help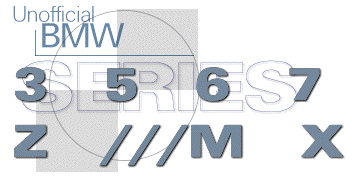 ---
---
From jrench_at_pacbell.net Tue Oct 1 10:54:46 1996
Date: Tue, 01 Oct 1996 08:28:47 -0700
From: Jim Rench <jrench_at_pacbell.net>
To: dale_at_unofficialbmw.com
Subject: Re: Steering Rack

Dale Beuning wrote:
>
> Operating System: SunOS 4.1.4 12
> X-Mailer: ELM [version 2.4 PL25]
> MIME-Version: 1.0
> Content-Type: text/plain; charset=US-ASCII
> Content-Transfer-Encoding: 7bit
> Content-Length: 1056
>
> Hi,
> The leaking rack is a very common problem with the E30. I have
> heard of people rebuilding these racks for around $50. Replacing
> with a rebuilt for $300, and with a factory new unit for $600.
> All numbers are parts only and aproximates. I haven't replaced one,
> but I've replaced everything around it, so I think it should only take
> 3-4hours shop labor.
>
> hope this helps
> Dale
>
> > On my 87 325is, the steering rack is leaking on the passenger side right
> > at the inside edge of the rubber boot. I take this to mean some kind of
> > seal is worn. What am I into here? Do I need a new seal/gasket kit, a
> > used or rebuilt rack?
> >
> > Any suggestions or help would be appreciated! Thanks in advance.
> >
> > Jim Rench
> > jrench_at_pacbell.net
> >
>
> --
>


>                         -----------------------------------

>                        |            Dale Beuning           |
>                        |       email: dale_at_unofficialbmw.com     |
>                        | web: http://www.unofficialbmw.com |
>                         -----------------------------------

Thanks, Dale! - My solution seems to be a used rack from BMW Auto Recycling in Sacramento - $175 w/a 6 mo. warranty. Labor will be about $250. I was quoted $525 + labor for a rebuilt one, albeit with a lifetime warranty.
I figure I can take my old one and if a rebuild kit only costs $30, I can keep it for the future or sell it to some other poor soul.
So thanks for the quick response!
Jim
I figure
---
From digest.v5.n320 Wed Oct 2 12:04:38 1996
From: "Steve D'Gerolamo" <steved3_at_village.ios.com>
Date: Wed, 02 Oct 1996 14:11:06 -0400
Subject: Steering Rack Remfg Units

I would strongly suggest using a ZF remanufactured steering rack over the slightly cheaper aftermarket rebuilds available on the market...ZF incorporates all the latest engineering changes (basically the latest seal & o-ring updates). For the ambitious owners, BMW does offer rebuild kits (seals & o-rings) for the E30 racks...part # 32131128685 for 84-10/86 and # 32131132798 for 11/86-91 (each is around $70.00 mail order price, $100.00 list). The ix kit is # 32131137410. You should consider the "mount kits" for all of these as well. SD
Steve D'Gerolamo c/o The Ultimate Garage, Emerson, NJ (201-262-0412)
Unofficial Homepages: [Home] [E12] [E24] [E28] [E30] [E34] [E36] [Z3] [E39] [E46] [X5/E53] [ALL] [ Help ]