Home
E12
E24
E28
E30
E34
E36
Z3
E39
E46
X5/E53
ALL
Ron Stygar
Carl Buckland
Dale Beuning
Forums
Help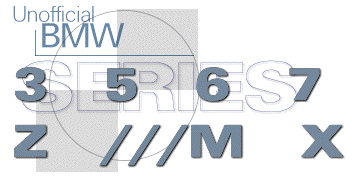 ---
---
From digest.v5.n80 Tue Aug 6 13:31:46 1996
From: Scott Massey <smassey_at_inputgov.com>
Date: Tue, 06 Aug 1996 15:45:07 -0400
Subject: RE: <E30> shaking

My E30 shook at 60 MPH and above. After 4 new tires and front rotors the shake was still there. I then had all 4 wheels reconstructed and painted. No vibration at all now.
The rebuild was $500 for 4 iS wheels. This included straightning, painting and clear coat for wheels and center caps, dismount and mount of tires and high speed balance with internal weights.
The work was done at Ye Old Wheel shop in Elkridge MD.
I bought the car from a BMW dealer. Seems they collected the iS spares from other trade ins until they had a set of 4. The problem is when most people bend a wheel it becomes the spare.
Scott
89 325i
Unofficial Homepages: [Home] [E12] [E24] [E28] [E30] [E34] [E36] [Z3] [E39] [E46] [X5/E53] [ALL] [ Help ]