Google Search

Search (Google!!)
Search Amazon.com
Home
E12
E24
E28
E30
E34
E36
Z3
E39
E46
X5/E53
ALL
Ron Stygar
Carl Buckland
Dale Beuning
Forums
Help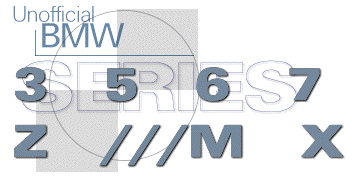 ---
---
Rubber ages.
---
The hotter the climate you live in, and the older the car is, the sooner you should replace your rubber components. For example, if you live in Seattle with it's moderate temps, you could get away with say, 6 years on most of these items. But if you live in Phoenix with it's blistering summers, 4 years would be a good idea.
Safety:
All fuel hoses under the hood, cost $20 in parts, 2 hours labor. Tires, if the rubber is hard and old (4 years), replace them!
Reliablity:
All coolant hoses under the hood, cost $250 in parts, 3 hours labor. Guibo, the rubber disc coupler in your drive line, cost $40, 2 hours labor.
Depending on how critical you are of how a car feels will determine if you want to make the following changes:
Like new handling:
Control arm bushings.(cost $50 parts, 2 hours labor) Rear-subframe bushings(cost $100 parts, 2 hours labor) Rear trailing arm bushings(cost $50 parts, 4 hours labor) Differential housing bushing(cost $30 parts, 2 hours labor)
Unofficial Homepages: [Home] [E12] [E24] [E28] [E30] [E34] [E36] [Z3] [E39] [E46] [X5/E53] [ALL] [ Help ]