Home
E12
E24
E28
E30
E34
E36
Z3
E39
E46
X5/E53
ALL
Ron Stygar
Carl Buckland
Dale Beuning
Forums
Help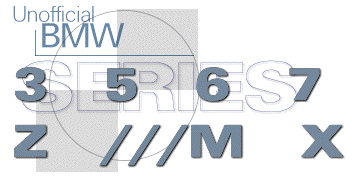 ---
---
From digest.v9.n538 Tue Nov 17 22:36:00 1998
From: "Brett Anderson" <bretta_at_bestweb.net>
Date: Wed, 18 Nov 1998 01:22:53 -0500
Subject: Re : E-30 Rear Bearings BA

>Date: Tue, 17 Nov 1998 23:41:13 -0500
>From: "Kenny Fleshman" <kenny_at_utc.campus.mci.net>
>Subject: Re: E-30 Rear Bearings
>
>I saw no response to the request for bearing replacement advice, so I
will
>re-ask. I am about to tackle the same job on my 85 325e. Any helpful
tips,
>hints, warnings? I too would appreciate some insight. I sold my 735i
and can
>now focus on the system by system rebuild of my 3 into a bygosh
>boyracer/bavarian streetrod (easy... I live in East Tennessee). Thanks
for
>the help
>
>Kenny Fleshman
>85 325e
>86 735i
Changing wheel bearings in a shop equipped with all the usual shop equipment, but no special tools for bearing removal is quite a difficult job.
To do it at home, with nothing but hand tools would be virtually impossible.
I'd recommend having a professional do the wheel bearings on this car.
Brett Anderson
BMW and ASE master technician
http://frontpage.bestweb.net/~bretta

Please include all correspondence when replying to avoid confusion - Thank you

Unofficial Homepages: [Home] [E12] [E24] [E28] [E30] [E34] [E36] [Z3] [E39] [E46] [X5/E53] [ALL] [ Help ]