Home
E12
E24
E28
E30
E34
E36
Z3
E39
E46
X5/E53
ALL
Ron Stygar
Carl Buckland
Dale Beuning
Forums
Help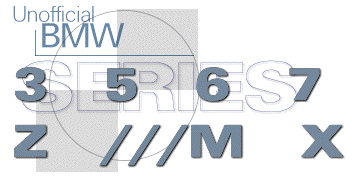 ---
---
From digest.v5.n597 Fri Nov 22 08:30:02 1996
From: mssidhu_at_ix8.ix.netcom.com
Date: Thu, 21 Nov 1996 20:27:33 +0000
Subject: RE: <E30> Suspension parts questions

John,
The front sway bar mounting points are different. The right way would be to weld some M3 mounts on your strut housing and use M3 links. or you could bolt the bar to your links(located on the A arm) but, these links will not be vertical anymore but sit at an angle (This is how i have installed an M3 sway bar in my 86 325es) Probably places more stress on the links but I have not had any failures after 6 drivers schools and many autocrosses. Can't help you with the rear bar as I chose to stay with the stock bar.
Re: M3 springs.
Keep in mind that the M3 engine is significantly lighter than yours so the car will sit lower than an M3 in the front. Should be OK on the rear.
I had thought of doing this but, decided to get springs that were made for the 6 cyl. I chose Hartge but, there are many others available in the $200-250 range.
There are some digester who have used M3 springs, hopefully one of them will share their experience.
>I just got some E30 M3 takeoff parts (sway bars and springs)
>from a fellow digester to install in my '87 325. Before I
>start tearing things down and spending $, I need some advice.
>My mechanic and I measured the sway bars - the front bar
>is bigger (about 10mm) than the one in my stock 325, but the rear bar
>is actually slightly smaller. Is this correct?
>Also, the springs are visually indistinguishable from the
>ones on my car, but have green paint daubs on them. Is
>this enough info to determine which parts they are
>(assuming OEM)?
>Thanks in advance for any help on this.
>- -John
hope this helps
Monty
89 M3
86 325es
Unofficial Homepages: [Home] [E12] [E24] [E28] [E30] [E34] [E36] [Z3] [E39] [E46] [X5/E53] [ALL] [ Help ]