Home
E12
E24
E28
E30
E34
E36
Z3
E39
E46
X5/E53
ALL
Ron Stygar
Carl Buckland
Dale Beuning
Forums
Help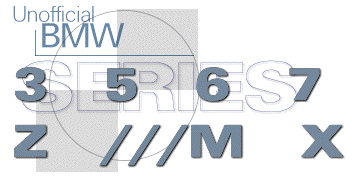 ---
---
From digest.v6.n742 Fri Jun 6 22:17:41 1997
From: Mpotheau_at_aol.com
Date: Fri, 6 Jun 1997 09:16:18 -0400 (EDT)
Subject: <E30> re: crossmember bushings

Whenever you lubricate a rubber bushing for installation use a lubricant which will disappear with a little time. Also one which will not cause the rubber bushing to degrade with time or use. Lithium grease or Kerosene are not appropriate. If you wipe the rubber bushing with a clean cloth and you'll notice that the rubber has degenerated a little bit. Never ever use silicon spray for this job. Bushings can re-orient themselves or, in extreme cases, pop out.
Use a dish soap, one of the yellow colored ones (Joy etc). These are totally soluble in water and do not leave a residue which can cause the rubber to deteriorate.
As far as tools go, try out this site http://www.technictool.com/bmwtools.htm They have tools applicable for this job and many many others made mention of in the Digest. Suggest checking this site before asking tool related questions.
Ok, this post is my opinion, no financial interest, environmentally sound, may or may not conform to Hooke's law, common sense prevails (I hope) Circle Tire Co.
Michel Potheau BMWCCA#0000002 BMW Club France #0000013 mpotheau_at_aol.com
+~+~+~+~+~+~+~+~+~+~+~+~+~+~+~+~+~+~+~+~+~+~+~+~+ Whiners? We don't need no stinkin whiners! +~+~+~+~+~+~+~+~+~+~+~+~+~+~+~+~+~+~+~+~+~+~+~+~+ Barbed wire.
Unofficial Homepages: [Home] [E12] [E24] [E28] [E30] [E34] [E36] [Z3] [E39] [E46] [X5/E53] [ALL] [ Help ]