Home
E12
E24
E28
E30
E34
E36
Z3
E39
E46
X5/E53
ALL
Ron Stygar
Carl Buckland
Dale Beuning
Forums
Help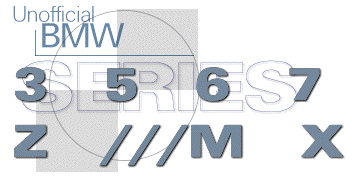 ---
---
From digest.v5.n42 Mon Jul 29 17:53:27 1996
From: "Rick Kjeldsen" <fcmk_at_watson.ibm.com>
Date: Mon, 29 Jul 1996 11:48:52 -0400
Subject: Re: installing DINAN springs in E36

>With the car jacked up and the shocks off or unbolted from the shock
>tower. Have someone heavy stand on the brake rotor hub. They may
>need to lightly bouce a little to push the suspension arm down.
You have to be careful with this. I don't have experience with E36, but on the E30 you can damage your CV joints unless you unbolt the axles from the diff first. You end up bending the CV joint beyond its intended range of motion and a few miles down the road you will be replacing it. Ask me how I know. Twice before I figured it out.
It's easy to disconnect the axle, just 6 bolts that hold the inner joint to the output flange of the diff. 5 minutes of extra insurance.
rick
Unofficial Homepages: [Home] [E12] [E24] [E28] [E30] [E34] [E36] [Z3] [E39] [E46] [X5/E53] [ALL] [ Help ]