Google Search

Search (Google!!)
Search Amazon.com
Home
E12
E24
E28
E30
E34
E36
Z3
E39
E46
X5/E53
ALL
Ron Stygar
Carl Buckland
Dale Beuning
Forums
Help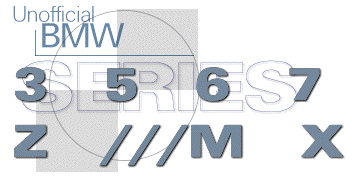 ---
---
From t.prichard_at_worldnet.att.net Fri Oct 16 21:15:29 1998
From: "Thomas Prichard" <t.prichard_at_worldnet.att.net>
To: <dale_at_unofficialbmw.com>
Subject: '<e30> survey entry'

>From tprichard_at_hotmail.com
1987 325e 5-speed
purchased 1995 w/ 96k, now has 135k
Cinnabar red, has M3 look-alike body kit, 16 in. chrome BBS w BFG CompZR16s, short-shift kit, motorsport leather steering wheel. This car has no engine mods yet it pulls very strong and is noticeably quicker than many other eta 325s, but could still use a chip and a 3.73 LS diff. Car has original paint, looks sharp.
Replaced parts:
98K: new roundels and wheel emblems($36) 105k: throttle body air intake boot $22 107k: BFG Comp ZR 225-45ZR-16 (4), $520 109k: Redline MTL synthetic trans lube and Redline diff. lube change, $45: spark plugs (Bosch WR9LS), new dist. cap and rotor($70), windshield spot repair($45), water pump, new hoses, clamps, alternator belt, coolant overflow hose($240), air filter, $12 119k: Rear brake pads($60)
123k: RF wheel bearing ($239), new exhaust system w/ aftermkt. cat($250) 125k: Front brake pads($60) Midas
127k: front struts($239) Midas
131k: Rear shocks and mounts($180) Midas 132k: clutch disc, pressure plate, T/O bearing ($750)
Total Repair costs (excluding normal maintenance) from 1995-98: $2750, averages out to abt. $700/ year, the car has a very firm and solid feel, great fun to drive. It still turns heads, even in car-jaded Houston. anyone with eta 325 performance tips Email or call me, please.
tprichard_at_hotmail.com (713) 383-0317
Unofficial Homepages: [Home] [E12] [E24] [E28] [E30] [E34] [E36] [Z3] [E39] [E46] [X5/E53] [ALL] [ Help ]