Home
E12
E24
E28
E30
E34
E36
Z3
E39
E46
X5/E53
ALL
Ron Stygar
Carl Buckland
Dale Beuning
Forums
Help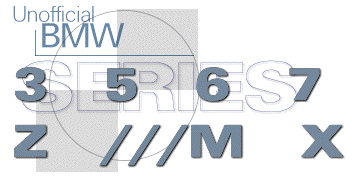 ---
---
From wheels_at_konnections.com Fri Aug 23 23:46:47 1996
(router,SLmailNT V2.0); Sat, 24 Aug 1996 00:43:58 Mountain Daylight Time
(192.41.71.179::mail daemon; unverified,SLmailNT V2.0); Sat, 24 Aug 1996 00:43:56 Mountain Daylight Time
id <01BB9155.0FD84520_at_wheels.konnections.com>; Sat, 24 Aug 1996 00:42:00 -0600
From: "Ron Wheeler" <wheels_at_konnections.com>
To: "'dale_at_unofficialbmw.com'" <dale_at_unofficialbmw.com>
Subject: E30 survey
Date: Sat, 24 Aug 1996 00:19:17 -0600

1987 325is=20
Bought with 70,000miles
Currently has 121,000 on it.
1st year =3D no problems
90k developed power steering leak at the rack boots, tightened clamps = and still have not replaced rack.
97k noticed slop in belt tension. Found alternator mounting bracket = cracked in three places.
100k replaced timing belt and tensioner.
110k replaced right tie rod. Inboard joint was getting loose.
113k lost illumination to the computer. Cheap to fix but have not had = the time to pull the panel apart.
Considering what we use this car for ( sports utility duties, ski trips, = Utah winter commuting etc. ) I am very pleased with its dependability. I = also own a pristine `83 533i with 190k on it (no rebuild) and am looking = into buying a M5 or M6. Our E30 will continue to receive all our "high = risk" travel assignments.
Unofficial Homepages: [Home] [E12] [E24] [E28] [E30] [E34] [E36] [Z3] [E39] [E46] [X5/E53] [ALL] [ Help ]