Google Search

Search (Google!!)
Search Amazon.com
Home
E12
E24
E28
E30
E34
E36
Z3
E39
E46
X5/E53
ALL
Ron Stygar
Carl Buckland
Dale Beuning
Forums
Help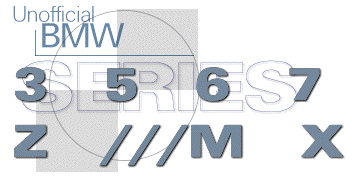 ---
---
From MZEmir_at_aol.com Sat Mar 29 10:59:53 1997
From: MZEmir_at_aol.com
by emout20.mail.aol.com (8.7.6/8.7.3/AOL-2.0.0)
id NAA25278 for dale_at_unofficialbmw.com;
Sat, 29 Mar 1997 13:59:18 -0500 (EST)
Date: Sat, 29 Mar 1997 13:59:18 -0500 (EST)
To: dale_at_unofficialbmw.com
Subject: e30 survey

'89 325i, currently 152,000 mi., purchased 107,000.
Hi, happy to share my experience with the e30!! As you will see, most of what I did is general maintenance, very little went wrong with the car so far and i am hoping to keep it that way.
About 113,000, the car got hit by a honda civic driven by a teenager, very low speed (15 mph) impact but I did get a brand new front end out of it. The steering rack showed the damage a little later, so did the AC condenser. The other party's insurance co. re-opened the claim file and paid for these items.. Lesson: don't be afraid to go back to the insurance co. if you think something is related to a previous claim...
At about 114,500, I spun out and hit the guard rail on I-43 near Milwaukee during a snow storm... DUMB DUMB DUMB... Lesson: get four hakkopelita's, and you'll swear you're driving an iX and look for snow patches to prove to yourself that the BMW *is* great in inclement weather.
Had trouble with "check brake light" indicator.. went away after I installed BMW light bulbs all around.
The strangest thing on the car: twice broken J bracket carrying the power steering pump.. It turned out one of the other mounting bolts of the pump had snapped but still had enough tread to give the impression of being tight.
Date Mileage Item

7/14/94 107,684         Pre-purchase inspection.
8/6/94          108,473         Replace left fog light.
9/19/94 111,000         Left outer ball joint.
10/17/94        112,960         Spoiler, bumber, fog light, new radiator, fan,  oil cooler,
alignment, body.
12/6/94 114,622         RT rear quarter panel, lens, body and paint.
12/7/94 114,900         Nokia Hakkopelita 10 snow tires on steel rims.
1/31/95 115,000         Tune and valve adjust, replace brake fluid, air filter, fuel
filter, plugs,                                                  distributor cap and rotor.
3/22/95 120,200         Replace power steering rack and align.
7/27/95 127,049         Replace wiper switch.
7/31/95 127,062         Oil service,  trans. and diff. oil.
8/1/95          130,000         AC condenser replaced.
10/10/95        131,000         Timing belt, tensioner pulley, w/ seals and water pump, cam
seal.
2/12/96 134,100         Replace boken power steering pump 'J' bracket.
4/17/96 139,351         E30 recall item #92: bypass valve, bleed coolant, pressure
test.
6/19/96 141,600         Trans. and diff. oil, fuel filter, plugs, valve cover
gasket, seal ring,                                                              tune, valve adjust, instrument cluster back light
bulb.
8/2/96          145,000         Replace rear (original) muffler, oil service.
8/15/96 145,000         Paint hood and replace chipped Roundel.
10/13/96        146,000         Replace boken power steering pump 'J' bracket -again.
11/11/96        146,700         Replace original battery w/ 60 month Interstate battery.
1/15/97 150,000         Front rotors and brake pads, sub frame bushings, oil
service.
2/15/97 151,000         Rear shocks and mounts; boge gas.
2/15/97 152,000         OBC light bar, oil service, oil drain plug re-tread, K&N air
filter.
3/28/97 152,200         Pressure hose from AC condenser to dryer.

next:
change hex head bolts to torx...
body work on rusting weld at rear door rocker panels (both sides)... replace sticky antenna mast..
replace cracked and seriously pitted right fog light lens... front suspension (boge gas)...
happy motoring..
mustafa emir
Unofficial Homepages: [Home] [E12] [E24] [E28] [E30] [E34] [E36] [Z3] [E39] [E46] [X5/E53] [ALL] [ Help ]