Home
E12
E24
E28
E30
E34
E36
Z3
E39
E46
X5/E53
ALL
Ron Stygar
Carl Buckland
Dale Beuning
Forums
Help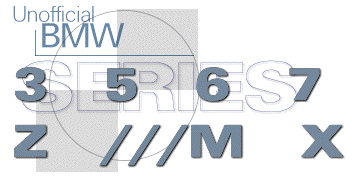 ---
---
From digest.v4.n565 Wed May 8 22:29:18 1996
From: Monty Sidhu <sidhu_at_nevada.edu>
Date: Wed, 8 May 1996 19:37:53 -0700 (PDT)
Subject: <E30> Survey

Here is a list of service performed on my cars, 86 325es 175K miles, many drivers schools and autocrosses. Engine absolutely stock except K&N, never needed any repairs. uses 1/2 to 3/4 qt oil every 3K miles. 22-24.5 mpg was 25-30 before diff. swap. bought Dec. 1990 w/ 44K miles and all records which showed T-belt and brake pads(4) replaced.
Original
Engine, transmission, body
Necessary stuff
plugs every 50K miles
K&N and 100K
engine oil every 3K Mobil 1 15W-50
all other fluids anually
brake pads as required, metal masters (4) and rotors (4) last weekend ICV at 110K
control arms 130K
clutch 120K, disk was fine but TO bearing was bad, replaced all 3 components T- belt,tensioner, all other belts and water pump every 50K MCU 90K
Adjust valves every 50K
Radiator and fan clutch 155K
SI batteries 80K
Both front wheel bearings 120K
Guibo and center support bearing 90K
Tires, too often :) currently A509's
The Good stuff
Hartge springs, Bilstein sport front shocks, Boge TG rear shocks, M3 front sway bar, Dinan Adjustable rear cross member, 3.73LS, Scroth autocontrol seat belt, Hella headlights, all suspension bushings. All this was done over the last three years.
Overall, still drives and looks great and has provided many miles of fun driving.
89 M3, bought 2 years ago w/65K miles, service records show only routine maintainence except one dash bulb replacement at 38K (by the dealer _at_ $125) car now has 78K. 23-27mpg.
Parts replaced other than oils/filters
Plugs 70K
Temp sensor 70K
Guibo 70K
All brake pads and rotors at 72K
Jim C chip at 74K
Tires at 75K A 509's
thats it
Hope this helps new owners and people who have lower mileage cars than mine. All above work has been performed by me.
Monty Sidhu
86 325es
89 M3-C
Unofficial Homepages: [Home] [E12] [E24] [E28] [E30] [E34] [E36] [Z3] [E39] [E46] [X5/E53] [ALL] [ Help ]