Home
E12
E24
E28
E30
E34
E36
Z3
E39
E46
X5/E53
ALL
Ron Stygar
Carl Buckland
Dale Beuning
Forums
Help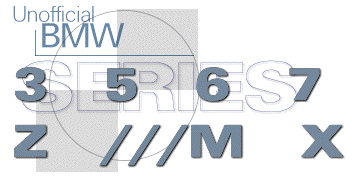 ---
---
From sasha_at_ram.net.au Wed Oct 29 16:46:19 1997
Date: Wed, 29 Oct 1997 23:41:24 +0000
From: Michael <sasha_at_ram.net.au>
To: dale_at_unofficialbmw.com
Subject: E30 Survey No.2
My name is Michael St.Clair and I own a 1984 318i. Alot of things have happened since my last survey, so, ill pick up where i left off.......
191000kms: new fuel lines, new rear bumper(bent)
193000kms: new Thermostat (75C) instead of 80, works great!!, new

           fuel transfer pump, E36 control arm bushes(stiffer),
           input/output flange for coolant(corroded), new radiator
           hoses, service inspection 2.

196000kms: Lowered 35mm on german HIOP springs, new brake pads,

           rear wheel cylinders, new muffler(genuine), new 
           gearbox(bloodyhell!), new front suspension upper mounts.

197000kms: New ignition coil and new high tension leads, new exhaust
manifold gasket(broken one made car sound like a truck!)
200000kms: 5 CRACKS FOUND IN ENGINE BLOCK!!!!!,(car was loosing coolant)

           Mechanic suggested putting on a 2liter block instead of 1.8,
           I'm picking up the car tommorrow (31 october 1997)

Well, by seeing that the block developed these cracks, this engine of mine would have had to be completely fried by one of the previous owners(severely overheated) ,(head has also had a crack in it repaired). (Had it pressure tested yesturday just to make sure its ok, turned out perfect)
Anyway, till next time
See Ya
Michael St.Clair
1984 318i (with 2 liter conversion, mechanic promises more torque and horses, he's done this conversion before)
Unofficial Homepages: [Home] [E12] [E24] [E28] [E30] [E34] [E36] [Z3] [E39] [E46] [X5/E53] [ALL] [ Help ]