Google Search

Search (Google!!)
Search Amazon.com
Home
E12
E24
E28
E30
E34
E36
Z3
E39
E46
X5/E53
ALL
Ron Stygar
Carl Buckland
Dale Beuning
Forums
Help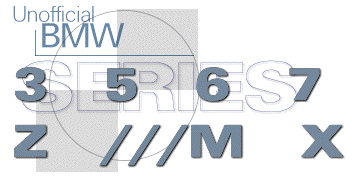 ---
---
From ddelaney_at_sgi.net Sun Jan 19 08:40:35 1997
Date: Sun, 19 Jan 1997 11:38:31 -0500
From: Duane Delaney <ddelaney_at_sgi.net>
To: dale_at_unofficialbmw.com
Subject: 87 325is survey
X-URL: http://www.unofficialbmw.com/e30.html

87 325is - 70,100 miles - ddelaney_at_sgi.net
I won't bore you with the scheduled maintenace (religiously done) Unscheduled items (premature failure or trouble spots):
LR wheel bearing, 60k (noisy)
All pads, sensors and brake rotors, 65k (might as well do it complete) RF wheel bearing/hub - needs to be done now (70k) Suspension - RR shock mounts shot, with thumping and squeaking; suspect front suspension mount bushings have seen better days, as the characteristic wandering on the highway is beginning to become apparent.I will probably do the entire suspension in the spring (shocks, springs, sway bars, and all bushings), using stock bushings instead of the evil squeaking urethane of aftermarket kits, stock Bilstein HD, but slightly shorter springs and bigger sway bars than stock. I want a ride comparable to stock with a little less leaning in corners, etc.
Drive train: no repairs - Synthetic oil in engine and tranny is a must!
Replaced stock wheels with BBS RZ 15x7 with Goodrich ZR 205/55/15 - great set-up; quiet, grippy, good mileage on tires, resonable price Overall a very trouble-free car, but wearing out wheel bearings at 70k is a bit annoying.
Unofficial Homepages: [Home] [E12] [E24] [E28] [E30] [E34] [E36] [Z3] [E39] [E46] [X5/E53] [ALL] [ Help ]