Google Search

Search (Google!!)
Search Amazon.com
Home
E12
E24
E28
E30
E34
E36
Z3
E39
E46
X5/E53
ALL
Ron Stygar
Carl Buckland
Dale Beuning
Forums
Help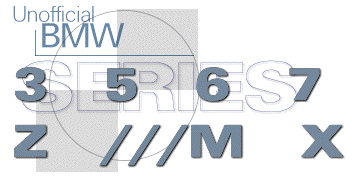 ---
---
From connies_at_top.net Thu Jul 17 17:17:52 1997
by dns.top.net (8.8.4/8.8.4) with SMTP
id TAA19490 for <dale_at_unofficialbmw.com>; Thu, 17 Jul 1997 19:22:22 -0500
Date: Thu, 17 Jul 1997 19:13:46 +0000
From: connie simons <connies_at_top.net>
To: dale_at_unofficialbmw.com
Subject: 1985 325e maintenance

I purchased my 1985 325e last July with 85k miles on it. Now it's got about 89k and is currently at Maaco getting a new paint job.
New battery 85k
Exhaust system replaced, rear brake pads replaced 86k Ball joints and control arms replaced 88k Fuel filter replaced 88k
Right turn signal mechanism replaced 88k BMW emblems, stick shift cover, sunroof motor cover, and blower control knob replaced 88k
It's been a great car so far. From my experience, BMW's are among the most reliable cars.
Ian Simons
Omaha, Ne.
Unofficial Homepages: [Home] [E12] [E24] [E28] [E30] [E34] [E36] [Z3] [E39] [E46] [X5/E53] [ALL] [ Help ]