Google Search

Search (Google!!)
Search Amazon.com
Home
E12
E24
E28
E30
E34
E36
Z3
E39
E46
X5/E53
ALL
Ron Stygar
Carl Buckland
Dale Beuning
Forums
Help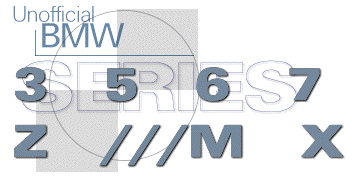 ---
---
From dspie_at_orbital.com Tue Aug 5 09:18:35 1997
To: <dale_at_unofficialbmw.com>
Subject: <survey> My E-30 318i service history
Date: Tue, 5 Aug 1997 12:18:01 -0400
For your E-30 owner's survey:
My car is a 1991 318i (E-30, M-42 engine), currently with 63,000 miles, purchased used last December from a Northern Virginia used-BMW dealership. Car was previously leased by someone. The repairs done by myself, and those I know about from the time prior to my ownership, are as follows: ----The infamous timing case profile gasket failure occurred before I bought the car (i.e. at around 43,000 miles), causing the head to warp; repaired by the dealer just prior to my purchase. ---New tires (now Pirelli P4000s) installed by dealer at 43,000 miles to replace original Goodyear Eagle NCT 65s. ---Exhaust (behind catalytic converter) replaced by dealer at 43,000 miles. ---Dashboard lights in heater/air-conditioning panel replaced also. ---Radiator cracked along bleed screw hole threads (in plastic tank section) at 50,000 miles, replaced radiator (although in retrospect I probably could have repaired the old radiator). ---Left rear window electric motor failed at 52,000 miles.
That's it so far! The car is generally a joy to drive, and my goal is to get at least 10 years more and a quarter-million miles out of it before I put it into "semi-retirement" (or give it to my daughter when she's old enough to drive, in 15 years!).

        Keep up the good work with your Web site.
                Dave Spiegelthal
                spiegelthal.dave_at_orbital.com

Unofficial Homepages: [Home] [E12] [E24] [E28] [E30] [E34] [E36] [Z3] [E39] [E46] [X5/E53] [ALL] [ Help ]