Home
E12
E24
E28
E30
E34
E36
Z3
E39
E46
X5/E53
ALL
Ron Stygar
Carl Buckland
Dale Beuning
Forums
Help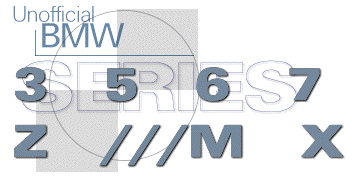 ---
---
From dale_at_unofficialbmw.com Sun Jan 9 00:43:56 2000
Sun, 9 Jan 2000 00:43:56 -0800
From: Dale Beuning <dale_at_unofficialbmw.com>
Sun, 9 Jan 2000 00:43:56 -0800 (PST)
Subject: e30 stereo wiring
To: im4bmw_at_aol.com
Date: Sun, 9 Jan 2000 00:43:55 -0800 (PST)
Cc: dale_at_unofficialbmw.com ()

Hi John,
The factory amp is really nothing special. The most benefit you'll get out of it having the cross overs all setup for you to the various speakers. I would just bypass the fader and the amp and just run directly to the existing speakers. They are decent on the premium sound system which I believe all the 325is models came with. I'd also pick up a cross over to split the signal to the front tweets and midrange down in the kickpanel.
>From the factory wiring, I'd just use constant power to the Blau's memory
power line, ign power to the Blau's main power line, white wire to power antenna, and ground. Antenna also of course, you can get an adapter from the odd factory micro connector to the normal full size one the Blau will expect.
The Amp internal to the Blau is probably 35w/channel, and sounds better then the 12 year old 25w-35w/channel factory amp.
Dale
> Date: Sat, 8 Jan 2000 18:15:12 EST
> From: Im4BMW_at_aol.com
> Subject: Blau CD/Radio Install (Need Help)
>
>
> Digest Friends,
>
> I am trying to install a Blaupunkt CD Player/AM/FM in my son's '87
> 325is...the PO had really made a mess of things in there...wires everywhere!
> I used the E30 ETM and identified almost every wire in the opening where the
> radio goes, but I'm not quite there in figuring things out.
>
> The "Sparkomatic" Radio/Cassette Player that was in there only had the
> following wires connected:
>
> Constant Hot
> Accessory/Ignition Switch
> Ground
> Yellow Wire to Fader Control
> Blue Wire to Fader Control
>
> How did the speakers all work with this arrangement?...did they get fed
> totally through the fader control, with its connections to the amplifier? I
> could not tell how the speakers (stock 6 speakers) were fed otherwise.
>
> The new CD player has a plug for 4 speakers(each with pos/neg wires)...very
> simple if I were bypassing the amplifier. But, the amp is still in the car
> and I'm thinking it works, thus the way the Sparkomatic radio was wired (the
> speaker wires on the rear of it were not used)...just the two leads to the
> fader control.
>
> Sorry for the bandwith, but if anyone can follow me on this and has the
> "aptitude" for this stuff, could you kindly give me a hand? TIA
>
> John
---

                       |            Dale Beuning           |
                       |       email: dale_at_unofficialbmw.com     |

                       | web: http://www.unofficialbmw.com |
                        -----------------------------------

Unofficial Homepages: [Home] [E12] [E24] [E28] [E30] [E34] [E36] [Z3] [E39] [E46] [X5/E53] [ALL] [ Help ]