Home
E12
E24
E28
E30
E34
E36
Z3
E39
E46
X5/E53
ALL
Ron Stygar
Carl Buckland
Dale Beuning
Forums
Help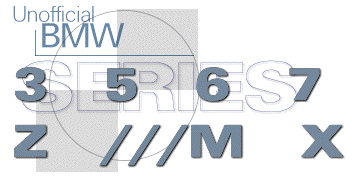 ---
---
From digest.v6.n601 Wed Apr 30 08:18:05 1997
From: "Brett Anderson" <Bretta_at_webspan.net>
Date: Tue, 29 Apr 1997 20:53:27 -0400
Subject: Re: Radio replacement on 84' 318i

> ------------------------------
>
> From: Shri Lohia <slohia_at_cisco.com>
> Date: Mon, 28 Apr 1997 15:52:47 -0700
> Subject: Readio replacement on 84' 318i
>
> Hi:
>
> I have replaced the original radio in a 84' 318i to a Sony.
> The new one has output connectors for 4 separate speakers.
>
> QUESTION: How do I connect four speakers to the new radio so that
on-dash
> fader is by passed? Please tell me the harness, cable colors, and
> connectors I need to modify.
>
> This questions might have been asked before. So there may already be a
> reply of FAQ on this topic.
>
> Thanks.
> - -Shri
>
This is for anyone else interested in radio replacement in the older cars with dash fader, as much as it is for Shri.
The BMW HiFi system used some funky speaker wiring. The easiest and most common way to install an aftermarket 4 speaker radio without an amp is to run new front speaker wires from the radio to the speakers, and then use the wires from the original radio for the rear speakers, placing the factory fader on full rear.
The left speaker wires are always yellow, right is always blue.
Also, a hint to determine speakers by wires is to jump a 1.5V battery across the two wires, the corresponding speaker will crackle.
Brett Anderson
BMW and ASE master technician
Bretta_at_webspan.net
Unofficial Homepages: [Home] [E12] [E24] [E28] [E30] [E34] [E36] [Z3] [E39] [E46] [X5/E53] [ALL] [ Help ]