Google Search

Search (Google!!)
Search Amazon.com
Home
E12
E24
E28
E30
E34
E36
Z3
E39
E46
X5/E53
ALL
Ron Stygar
Carl Buckland
Dale Beuning
Forums
Help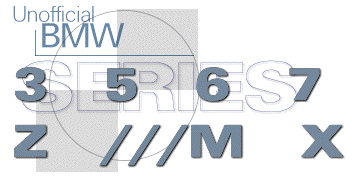 ---
---
From digest.v7.n83 Sat Aug 9 20:00:34 1997
From: S Weiser <s.weiser_at_postoffice.worldnet.att.net>
Date: Sat, 09 Aug 1997 18:44:19 -0400
Subject: re: <E36>,<All> Newbie's Car Audio Tech Query

Justin,
This is what I used for my E30 stereo upgrade.
Here goes:
5 1/4" Boston BACRC51 for the front (these include the tweeters) 5 1/4" Boston BACCX5 for the rear (two way speakers) 2 10" Boston BACRS10.8 subs for a custom box in the trunk I had an old amp that bridged mono to 200 watts so I used that. Head Unit is a Clarion CLADRX6175 w/CD in head unit but also has capability to run a changer. This unit is probably discontinued by now. But the replacement should do.
Speakers, as I've said before, are very individual! What I like may not be the same as you. For instance, I don't want overpowering bass for rap music but I do want to hear those low notes...so I went with the Boston woofers.
The tweeters are excellent, the best "I've" heard. If I did it again I would have gone with the same speakers in the back as the front and left off the tweeters and used an high pass filter. The highs should come from the front. in my opinion.
the whole system, without amp for sub, ran about $1200 worth every penny, esp in a convertible!(where you lose a lot of sound)
seth
>
>From: Justin Chan <pcathome_at_pacific.net.sg>
>Date: Sun, 10 Aug 1997 00:42:36 +0800
>Subject: <E36>,<All> Newbie's Car Audio Tech Query
>
>Hi guys.
>
>I'm thinking of upgrading the stock stereo on my 318is and would like some
>advice.
>
>Some preliminaries:
>
>My asia-spec E36 does not come with the tweeters mounted in the door - I
>only have the speakers in the footwell and the rear speakers.
>
>Secondly, my stock system is a Blaupunkt Barcelona with Blaupunkt speakers
>up front and back, and Blaupunkt CD Changer in the trunk.
>
>My questions:
>
>The stock speakers are pretty acceptable, but I find that I can't get punchy
>bass (I mean sharp percussion type bass in jazz & rock music)with the stock
>woofers except at high volume. I'm thinking of adding an amplifier and a
>sub-woofer, and maybe upgrading the speakers after they start to go a little
>soft. The head unit has a built-in amp that is capable of running, and I am
>quoting off the manual, 4 ch x 19w or 2 ch x 25w RMS. It also has a pre-amp
>built in.
>
>*****
>What sub-woofers can you guys recommend? Bear in mind I just want clarity
>at low volumes, not necessarily to signal the next block of my impending
>arrival.
>*****
>
>*****
>My rear speaker rating is (quote) "Nominal power rating 35W and Pulse
>loadability 80W". So is this a 35W or 80W speaker?
>*****
>
>Either way I am not using my speakers to best effect because my headunit amp
>is only running 4 x 19W. So I figure I should get an amplifier that runs

Unofficial Homepages: [Home] [E12] [E24] [E28] [E30] [E34] [E36] [Z3] [E39] [E46] [X5/E53] [ALL] [ Help ]