Home
E12
E24
E28
E30
E34
E36
Z3
E39
E46
X5/E53
ALL
Ron Stygar
Carl Buckland
Dale Beuning
Forums
Help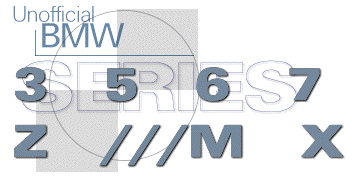 ---
---
From PaulS_at_ontario.com Fri Aug 30 09:42:29 1996
Date: Fri, 30 Aug 1996 11:45:41 -0500
To: dale_at_unofficialbmw.com
From: "Paul G. Smith" <PaulS_at_ontario.com>
Subject: Re: speakers for BMWs
As sent to another question:
TO do it right:
Take out the old system keeping all wires intact and not cut. Get a new head unit (Alpine units will illuminate the amber color of the BMW interior lights). Get an amp(the most powerful you can for the money(Xtant is great) get MB Quart speakers to replace the stock speakers. Custom boxes can save room in the trunk for a sub or two. I got the amount of air space needed for my subs and created a box that conformed to the back of the trunk to leave as much space as possible. If you are worried about weight, use 1/4 in board or 1/2. The stereo people say you need 3/4. I made mine out of the 1/4 because I did not want the extra weight. The sound is as good. In making sub boxes (or having them made) it does not matter the design, but the amount of air. I am contemplating doing one that only takes up about 2 inches of the base of the trunk and mounting the speakers pointing up. This way I only lose 2 inchs of height as opposed to 1.5 feet in depth.
---
As sent to another reply:
(Stereo stores) They should have a book that you can pick the speakers (MB Quart) you want. I was able to put 6.5 speakers in the 525 where the book said 5.25. In my 94 325i sport, the kick panels were altered to get the 6.5 in there. You can not see this from the seats. You get better bass response. I have the tweets mounted in the rear-view mirror backing, like the older 3 series. I have no rear speakers in the deck because of the subs. You really do not need them. I didn't believe this until I heard the system. If you add subs in the trunk, there are plenty of areas to get the sound in the cabin. DO NOT CUT HOLES IN THE BMW. It is not needed.
Respond with any other questions.
If you can not get the Quarts, let me know and I can get you the name of a dealer in your area.
If you go int a shop, make sure that they have done many, many bmws before. If not, you could have major problems.
If you do it, do it 100% or there will be problems or you will feel that it was a waste of money.
In my 325, I have two alpine 3555 (One for the front _at_ 150 watts/channel & one for the subs _at_ 150 watts/channel) and a v12 alpine 2 channel 40 watt that powers the original mid speakers in the door panel. The mids add quite a bit.
Good luck!
PGS
---
I have 2 10" subs in the trunk. They are plenty. One 10" or 12" would also work well.
PGS
To: dale_at_unofficialbmw.com
From: "Paul G. Smith" <PaulS_at_ontario.com> Subject: Re: speakers for BMWs

As you install a stereo into a BMW, you have to think about if you will keep it in the car when you sell it. It adds no value to the dealership if you keep it in the car. Best solution is to not cut into any wires (with the exception of the door speakers if you have a connecting harness leading wires into the door).
In the 3 series with the mid and tweet in the door, you can not easily replace these. They are mounted to the door panel and grill, speaker, and connector are one.
The best solution [in my opinion] is to get a new head unit. Not to advertise, but alpine head units will give an option of the green or Amber (which matches BMW look) LED display.
Get high quality coaxial to run to the amp(s) in the back and monster cable for speakers. The better quality of wire the better the insulation (meaning no noise from the alternater). Get the highest power best quality amp that you can. One big one is better that 2 (weight, etc.)
MB Quart makes great separates and has won a majority of national contests. Youcan pick and choose between different sizes and get a custon setup (with crossovers) for the same price as regular separates shown on the floor.
When you have these put in (or do it yourself) keep al previous wiring in same condition. Keep all connectors and do not cut wiring. You can replace the OEM unit yourself in 30 - 120 minutes.
If needing more info, email me.
I am in no way affiliated with any stereo manufacturer or resaler and want what is best with making systems look great.
I have more info on subs and mounting tricks for high end tweeters.
I have worked on the 3 and 5 series that I have owned (3 3series and one 5er)
---
From fmwong_at_mizar.usc.edu Tue Oct 8 12:21:55 1996
Date: Tue, 8 Oct 1996 12:20:11 -0700 (PDT)
From: fmwong <fmwong_at_mizar.usc.edu>
Subject: Car Audio
Hi guys,
Since I received several inquiries regarding my own stereo system, I will give a general response regarding my system. So, if you have any more specific questions, please e-mail me.
Source Unit:
I replaced my factory radio with a Clarion ARX 9170 which is mated with a Clarion 12 disc changer mounted in the trunk. I went with the 9170 because it had the orangish display and it had the squarish display characters which matched my interior gauge lighting and the optional trip computer. The color and finish also matched my interior. (I've got the silver grey color interior.) The changer was mounted using the factory cd changer mounting kit. However, the bracket had to be custom made since the 12 disc changer was much bigger than the factory 6 disc changer.
Front Stage(front speakers):
For my front stage, I'm using the Boston Acoustics Pro 6.4 Series. This consists of separate 6.5" mids and 1" titanium dome tweeters with externally mounted crossovers. I chose Bostons because they sound "warm" and yet have pretty good mids and mid punch. Additionally, the tweeter is awesome and small enough for tight installs. The E36's have 5.25" mids in the kick panel. The BA 6.4s were very tight to install in my kick panels. I had custom made kick panels fabricated to accomodate the 6.5" mid and 1" tweeter. The shop made these out of MDF, fiberglass, and bondo. The kick panels come out about 1" from the stock panels. The panels were covered in matching dark grey leather. I also had the plastic door sill panels covered in the same leather. Metal mesh grills were formed to enclose the speaker area. The hood release on the drivers side was fabricated into the panel and the dead pedal was narrowed about 3/4". I had a piece of aluminum fitted and chromed for my dead pedal. Rubber strips were glue onto the dead pedal. The 6.5" mids are not angled. The hole for the tweeters were angled to direct to the ear level for imaging. Since the 6.5" mids were bigger than the stock 5.25" mids, some of the metal had to be cut away.
Since my system isn't done yet, (it's about 95% complete) we haven't tuned it yet on the RTA. However, first impressions are that it sounds really full and images well. But, I would like more mid bass punch. The custom kick panels look really great. The leather looks very concourse and makes the car look much more expensive and luxurious. It sure makes all the plastic pieces look cheap. If you noticed on the factory panels, there's that curve at the bottom where it meets the carpet. Well, my new panels have the same curve.
Rear Fill (back speakers):
The factory rear speakers are 4" with a 1" tweeter. My goal here was to just have rear fill and not have full range speakers in the back since it would ruin my imaging in the front. We used the factory enclosures but unhooked the factory tweeter. We replaced the factory 4" with a Boston Acoustics 4" Pro speaker. New speaker wires were run to the amp. Since these speakers were my rear fill, we had the gains on the amps turned way low so as to make sure they didn't interfere with my front stage. Some of you who are familiar with "rear fill" may be wondering why I didn't just use the factory 4" speaker. Well, since I have rear passengers maybe about 5%, I didn't want them to suffer by listening to cheap speakers.
Bass (subwoofers):
I like a lot of bass. However, I don't like bass which tends to rumble like it does on rap music. I prefer my bass to attack hard. Essentially, I like bass which hits you in the chest and stops. This is refered to as tight bass. For my bass, I'm using two Boston Acoustics 12.4 woofers. These are 12" woofers with big magnets. The woofers weigh about 24 lbs each with the magnet weighing about 23 lbs. WOW!! Boston woofers are good for tight bass which you would find on jazzy music. The two woofers were mounted into a custom made aluminum box which contain the aperiodic membranes. This box mounts up into the rear shelf of the trunk. My rear deck and this box were Dynamatted like stink on a monkey. Two holes were cut into the rear shelf for the woofers to push air through. The holes were cut about 6" square right next to the factory rear speakers. I bought another set of factory speaker grills which cover these holes which were mounted about 0.5" from the factory grills. When you look into the trunk, you see this aluminum box which hangs down about 3-4" and spans the width of the trunk. Then you see the two big woofer baskets. The aperiodic membranes are great. They save alot of space since the E36's are very tight.
Well, that completes the speaker set up of my system. I've got to go to lunch so I'll continue this some other time.
Frank.
94 BMW 325is-black on silver grey
>
Hi Dale,
My stereo work was done by Automotive Entertainment in Pasadena, California. The service manager is Mike Gendusa. You can him at (818) 577-1200. I was referred to Mike by a good friend of mine. My friend has had about 6 of his cars worked on by Mike over the past 5-10 years. A couple of his cars were really nice (92 Mercedes 300E and a 94 Mercedes 500E). I decided to have Mike work on my system for several reasons: 1) he's a really nice guy. 2) He has no attitude and he takes the time to show
you equipment. 3) His prices are very reasonable to good. Some shops will charge less for labor but end up charging more for the equipment.
Also, they just set up a web page. It is still under construction but you can check it out. (http:\\129.210.176.53/AE/)
Mike has asked me if I would mind having pictures of my system on the web page. When the cosmetics are completely done, we'll have the pictures on the net.
Let me know if you have anymore questions. I know it was hard for me to let people work on my car so I know what you mean.
Frank.
---
From fmwong_at_mizar.usc.edu Wed Oct 9 17:15:21 1996
Date: Wed, 9 Oct 1996 17:04:54 -0700 (PDT)
From: fmwong <fmwong_at_mizar.usc.edu>
Subject: Car Audio
Continuation of my car stereo description.
Processor board:
Right behind the rear fold down seats, I have an aluminum board which holds two AudioControl EQT's. The EQT's are basically 1/3 octave equalizers which are used to fine tune the system. Just below the EQT's, I've got a 1 farad capacitor for power peaks. To the right of the capacitor, I've got a positive and ground distribution block. Right next to this, I've got a positive fuse block. All the power to the amps and EQT's come off of this fuse block. This board was painted and clearcoated to match my black exterior. Rubber grommets were used to prottect the wiring through the board. The board looks really nice since it is shiny. My plan is to put a cover board over this board with plexiglass windows displaying the EQT's and the cap and the dist. blocks. The goal is to get this cover board covered in leather or vinyl to match the rear seats.
Amplifiers:
My system uses a total of three amps. I have two Xtant 2200i's and one Xtant 2140c. One of the 2200i's runs the front speakers, one of the 2200 runs the woofers and the 2140 runs the rear fill. Basically, I have 200 watts for the front, 400 watts for the bass, and 140 watts for the rear fill. The amp is way too big for the rear fill but, for cosmetics, I chose the 2140 because a smaller amp would look to ugly. (anyhow, the gains on the 2140 are way down)
The three amps are mounted standing sideways. They're mounted onto a sheet of 3/16" aluminum which was cut to fit the back half of the trunk. The aluminum sheet was also painted and clearcoated to match my car. Imagine the 2200i amps standing sideways in a "V" configuration with the point of the "V" right at where the back seats separate. Now, just in front of this "V", I have the 2140 amp.
Well folks, that's really all there is to write about. My next project will be to fabricate an aluminum housing for the cd changer and to replace the battery and fabricate a new battery cover.
If you have any more questions, let me know. Also, you can check out my installer's web page. It's still under construction but what the heck. Pictures of my system should be in their web page when I get everything done.
Automotive Entertainment
Ask for Mike Gendusa _at_ (818) 577-1200
web page: http:\\129.210.176.53\AE\
Frank.
---
From digest.v4.n809 Fri Jul 5 11:53:54 1996
From: "Dean.Schreier" <Dean.Schreier_at_pscmail.ps.net>
Date: Fri, 5 Jul 1996 9:55:00 -0500
Subject: <e36> Stereo Comments

Hello Digesters,

     Whether or not you care, the new stereo in the 328's and M3's are dog 
     sh** (I'm speaking of both the standard setup and the Harmon/Kardon). 
     I'm not sure what BMW did, but my '92 325is sounded much better, in 
     the areas of, detail, accuracy, and image. The '92 had much less bass, 
     but I was OK with that, because the '96 M3 has it and it sounds like 
     MUD. This may not shock anyone, but the stock stereo in the 318ti 
     active package sounds better than the 328/M3...go figure.
     
     So, know I'm faced with the chore and expense of yanking out the stock 
     system and totally replacing it (not something I wanted to do). The 
     reason I believe this is the solution is that, I've heard many 
     variations of upgrading the factory system (including a new head unit 
     used with factory amps and speakers, just new speakers <best 
     improvement>, factory head with new amps and speakers <this version 
     picked up some noise from the factory radio>).
     
     Why can't BMW do a good, not great, stereo system in they're cars (ala 
     Lexus, or S-class Mercedes)? The S-class Mercedes cost twice as much 
     as an M3, and has 10 times the stereo. 
     
     And on a similiar note:  I have read in BMW literature, that the 
     standard 328/M3 stereo has 10 speakers and 200-watts, and the 
     Harmon/Kardon has 8 Speakers and 320-watts...So, please QUIT calling 
     the H/K system a 10 Speaker System.
     
     Dean Schreier
     Schreier Applications Consulting
     Dallas, Texas
     '96 M3 (with a really crappy stereo)
     '76 Corvette (stereo is broken and still sounds better the M)
     BMWCCA 104306

---
From digest.v5.n338 Sat Oct 5 15:42:41 1996
From: Cary D Mc Reynolds <cary_at_OREGON.UOREGON.EDU>
Date: Sat, 05 Oct 1996 12:54:48 -0700 (PDT)
Subject: Re:M3 Stereo Upgrades

> Some options:
>
> 1.You can get good bass with minimal/no cutting if you decide to lose the
> rear speakers. Then you can build a tube extending from the sub port
> leading to the rear speaker mounting holes.
You must be careful in doing this. First you must assume that you are using a fourth order bandpass enclosure, or a six order bandpass (this is not the correct technical name but the one commonly used). Now if you just run a tube (or two if a sixth order) you have just changed the tuning of the enclosure. The ports are tuned by the diameter and length of the port v. the enclosure size and drivers thiel/small parameters. Running a duct from the sub port to the rear deck will change this tuning substantially. Bandpass enclosures are finky to begin with, this completely throws them off.
>
> 2.Vent the trunk by cutting holes in the back seat. Then the sound
> generated by the sub can pass through into the cabin; you get to keep
> your rear fill. If properly done, can look totally stock, but the fact is
> you have created new cavities in your car that weren't there before :)
>
> 3.Ask your installer if he can yank out the stock cheap, cheap, cheap
> rear speakers and replace them with something more substantial - say an
> 8" MB Quart coaxial driver. Personally, this is the way I plan to go, and
> the low frequency energy generated by 2 8" drivers (conservatively, probably
> solid to around ~45Hz, with some output even at ~30Hz) is plenty for me.
> I don't want a "boom" car.
This is a much better option. I for one like infinite baffle arrangments, which this would constitute for all intensive purposes. You could even get good levels of deep bass with two 6 1/2" drivers, assuming you aren't out to impress the whole neighborhood. With to 6 1/2" subs you should be able to get about 110 db's down to about 25hz, plenty of volume. The reason this will occur is that even though the drivers will be rolling off below about 60hz at a rate of 6db octave (this is the rolloff for an infite baffle; more likely the true rolloff will be about 9db octave), the tranfer function of the cabin causes the bass to be reinforce by 12db an octave below about 80hz (transfer function is when the longest dimention of a space is shorter than the wavelength of the soundwave).
>
> Eclipse head unit: The head unit probably doesn't make that much of a
> difference, and I guess Eclipse has a decent rep. However, do you
> _really_ want to attract _any_ unnecessary attention to your car?
>
Eclipse makes very good sounding head units with excellent D/A converters. A good head unit (as well as good amps and speakers) makes a difference. Garbage in, Garbage out.
> Finally, I don't know which installer you went to, but 1900 sounds like a
> pretty good price. Just make sure you're not going to a "chop shop", and
> always keep in mind: you get what you pay for. A good installer will have
> experience with the M3 already, and will know what problems exist with
> upgrading the sound system, such as how to elimiate spurious
> rattling/resonances that come with the territory.
Amen. A good installer can make a $500 system sound topnotch and a bad installer can make a $10,000 system sound like garbage. This is probably the most important step in getting good sound in a vehicle.
Cary McReynolds
82 320i
---
From digest.v5.n59 Thu Aug 1 15:59:40 1996
From: AddysDaddy_at_aol.com
Date: Thu, 1 Aug 1996 17:25:45 -0400
Subject: Whine From CD Player

Well, taken the car back to the dealer today and they are unable to find the whine generated from the alternator. They tried inserting a variety of capacitors from the power source but nothing seemed to help. Actually, as they increased the rating on the capacitor, the noise increased as well.
Hold the phone, the dealer just called and they took the car over to a high end audio shop that specializes in car stereos and they couldn't fix the problem. They feel that the DIN cable which is bundled in the wiring harness from the head unit to the CD player is picking up noise from the wire that leads from the engine to the battery (I have a 96-M3). The stereo shop is suggesting running a new DIN cable down the left side of the car and re-mount the CD on the left. This way, you isolate the DIN cable and avoid the problem altogether. Does this make sense to anyone else?
The stereo shop called the dealership back and advised them of the problem. Because they would be messing with the electrical system, they are having to get permission from BMW Technical Support in order not to void my warranty. The dealer has given the stereo shop the information and is supporting their recommendations to BMW Technical. So far so good. I haven't spoken to the dealer directly, but it would seem that they are handling the problem professionally. I reserve final judgment until the problem is fixed.
Has anyone else experienced this problem? On my recommendation, my dealer went back and drove two other 96-M3's and sure enough, they both had the same problem. Seems like we're on a roll. If you have a M3, I would give the CD player a good listen. While you're driving (at any speed), listen to the quiet passage between songs. You'll probably hear a high pitched sound that changes as you accelerate. The whine is there all the time, is just easier to hear during the quiet sections. However, there is no whine generated from the radio.
Any help would be greatly appreciated.
Stuart M.
96-M3
---
From digest.v5.n170 Sat Aug 31 02:33:56 1996
From: "Stephen D. Cohen" <cohensd_at_voicenet.com>
Date: Fri, 30 Aug 1996 22:53:08 -0400
Subject: Re: Dings, M3 Interest Group Newsletter, M3 Stereo Update

3. '95 M3 Stereo Update
Thanks to all who responded to my tale of woe. Responses were "it sucks", "rip it out", and so on. BMWNA Factory Rep looked at it...note - he didn't bother listening to it - and said it is the ONLY system BMW put into '95 M3 [remember 250 watts identification is TOTAL crap...defined by BMW to me as "peak power at peak distortion" - they later in early '95 called it 200 watt system - peak power at 10% THD - plus it 20 watts into 10 channels. Basically...BMW is saying - it is what it is. Sucko and Vanzatti for such a fabulous performance car.
To cut to the chase what I did is as follows:
Sony ES CDX-X810DSP [head unit] - cd receiver (in-dash) with built-in amp at 35 watts RMS power at 1% THD into 4 channels, digital signal processor, etc. Sony ES CDX-91 - 10 cd changer (in trunk). MB Quart Soundset up front - Model QM 325.21 - 3-way speaker system designed for BMW E36 2-door model, including: 5.25" woofer, 4" midrange with coaxially mounted .75" titanium tweeter. Left rear speakers alone for now.
Installed cost approx. $1800.
Result is SPECTACULAR!!!!
If you live in Philly/South Jersey area, I HIGHLY recommend you talk to:
Mike Balzer at Suburban Auto Radio. ph 609-854-7997. Location at 219 White Horse Pike in Oaklyn, NJ.
Live life in a grand way!
To: dale_at_unofficialbmw.com
From: "Stephen D. Cohen" <cohensd_at_voicenet.com> Subject: Re: 1995 M3 Stereo System
At 10:14 AM 8/22/96 -0700, you wrote:
>What are the manufacture dates of you two M3's? Mine is 10/94 and I'm
>not very satisfied with the sound of the stereo. I'm wondering if
>there was a midyear change for the worse.
>
>How much do the Sony components run in cost?
>
>Dale
>'95 M3
>
In response to yout questions. First M3 was built in April 1994 and second in August 1995. According to BMW Factory Rep who checked my stereo out this past Tuesday, only one stereo system was ever available for the 1995 M3. It was mislabelled as a "250 watt" system...accordingly to him it puts out 250 watts at "peak distortion while its proper rating is 250 watts peak power at 10% THD (total harmonic distortion).
In the 1996 M3 a '250 watts peak power at 10% THD' system is standard...it has a very different head unit design (I've seen it but not heard it) and there is an option for a '320 watt Harmon Kardon' system.
The Sony ES (ES components are a major upgrade from standard Sony components) pieces I will be installing this Wednesday are:
CDX-X810DSP - cd receiver (in-dash) with built-in amp at 35 watts RMS power at 1% THD into 4 channel, digital signal processor, etc. Equip. cost at $525.
CDX-91 - 10 cd changer. Equip. cost at $540.
In addition I am adding all new front speakers for $478. Installation cost for cd receiver, changer and speakers is $250.
MB Quart mid-range speakers in door
MB Quart bass speakers in kick panel
MB Quart tweeters in door
MB Quart front-mounted crossovers
By the way 4 others respond to my 'story'...all unhappy with system in M3. One modification a person is as follows:
Factory Pioneer head unit with weather band Alpine 6-disc factory, trunk-mounted CD changer 420 Watt Sentrek 6-channel Amplifier
Fultron EQ concealed in glove box
MB Quart mid-range speakers in door
MB Quart bass speakers in kick panel
MB Quart tweeters in door
MB Quart front-mounted crossovers
Audio Quest type 4 wiring
Custom crossover system to rear deck factory speakers Kicker 8" sub-woofer in custom, carpet-covered rear deck-vented box
Good luck.
---
From digest.v5.n335 Fri Oct 4 21:25:37 1996
From: Cary D Mc Reynolds <cary_at_OREGON.UOREGON.EDU>
Date: Fri, 04 Oct 1996 16:59:12 -0700 (PDT)
Subject: Re: Sound System Question from Chad
I must agree with Mr. Wong's statement. As a longtime audiophile I found MB Quarts to be extreamly bright and edgy. The Bostons are much better and the best are ADS. Remember that each person has their own taste in what sounds good. However, those speakers that sound nice and sharp in the showroom will start to grate on your ears after about 30 minutes. The speakers that don't sound as bright and flashy will sound great after 5 hours and your ears won't be killing you.
Cary McReynolds
82 320tii
Alpine Head/ Nachamichi Crossover/ Denon/Sony&Kenwood amps/ Boston Pro/Polk& Kef speakers
> ------------------------------
>
> From: fmwong <fmwong_at_mizar.usc.edu>
> Date: Fri, 4 Oct 1996 10:15:11 -0700 (PDT)
> Subject: <E36> Sound System Question from Chad
>
> Hey Chad,
>
> As far as speakers go, what kind of sound are you looking for? Are you into
> "bright" highs or do you prefer "warm" highs? In my opinion, the MB's are
> on the bright side. I prefer Boston Acoustics since they tend to more
> warmer. It really depends on the kind of music you listen to and of
> course your ears. Additionally, are you concerned with imaging and
> accuracy? Mounting speakers in the doors will not give you good imaging.
> As for the rear speakers, they may be ok if you're using them as rear
> fill. But, if you have rear passengers, they won't sound too good.
Unofficial Homepages: [Home] [E12] [E24] [E28] [E30] [E34] [E36] [Z3] [E39] [E46] [X5/E53] [ALL] [ Help ]